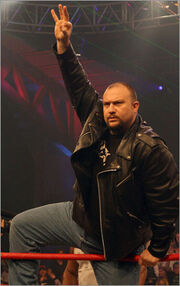 The following is a list of events that Mark LoMonaco has participated in.
2003
2004
2005
2006
2008
2015
For the first time in his wrestling career, Mark LoMonaco would make a surprise appearance at the 2015 Royal Rumble as Bubba Ray Dudley. He was the third entrant. Bubba would eliminate The Miz and R-Truth before Bray Wyatt took over the ring for several consecutive eliminations (including Bubba).
2016
External links
Ad blocker interference detected!
Wikia is a free-to-use site that makes money from advertising. We have a modified experience for viewers using ad blockers

Wikia is not accessible if you've made further modifications. Remove the custom ad blocker rule(s) and the page will load as expected.