Ad blocker interference detected!
Wikia is a free-to-use site that makes money from advertising. We have a modified experience for viewers using ad blockers

Wikia is not accessible if you've made further modifications. Remove the custom ad blocker rule(s) and the page will load as expected.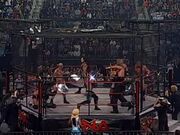 This match is similar to the WarGames match utilized in WCW, Total Nonstop Action Wrestling's Lethal Lockdown consists of a single ring enclosed by a steel cage with two teams facing off with each other. The staggered entry system is identical, but weapons are permitted and are even provided. When all competitors have entered the ring, a roof is lowered onto the top of the cage, with various weapons hanging from it. Victory can be attained by pinfall or submission. This match became a staple of TNA's Lockdown pay-per-view every April.
Match History
Notable Moments
One of the most notable moments was when A.J. Styles and James Storm climbed out and over the lowered roof and wrestled on the roof and A.J climbed a ladder up to the steel structures above which were about 50 feet in the air and came crashing down into Storm who was lying on a table