Ad blocker interference detected!
Wikia is a free-to-use site that makes money from advertising. We have a modified experience for viewers using ad blockers

Wikia is not accessible if you've made further modifications. Remove the custom ad blocker rule(s) and the page will load as expected.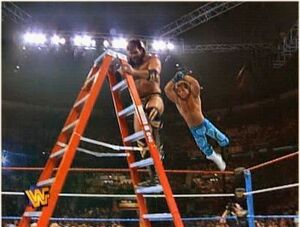 A ladder match is a wrestling match type where two or more opponents attempt to get something from the top of the ring, and a ladder is used to get it. Although the ladder is meant to be used to get the object above the ring, it's more commonly used as a weapon.
Ladder matches in the WWF/E
No
Match
Stipulations
Event
Date and Location
I
Bret Hart defeated Shawn Michaels
Ladder match for the WWF Intercontinental Championship
House show
July 21 1992
Portland, Maine
II
Razor Ramon defeated Shawn Michaels
Ladder match for the WWF Intercontinental Championship
WrestleMania X
March 20 1994
New York City, New York
III
Jeff Jarrett defeated Razor Ramon
Ladder match for the WWF Intercontinental Championship
Monday Night Raw
June 5 1995
Struthers, Ohio
IV
Shawn Michaels defeated Razor Ramon
Ladder match for the WWF Intercontinental Championship
SummerSlam
August 27 1995
Pittsburgh, Pennsylvania
V
Triple H defeated The Rock
Ladder match for the WWF Intercontinental Championship
SummerSlam
August 30 1998
New York, New York
VI
The Big Boss Man defeated Mankind
Ladder match for the WWF Hardcore Championship
RAW is WAR
November 30 1998
Baltimore, Maryland
VII
The Rock defeated Mankind
Ladder match for the WWF Championship
RAW is WAR
February 15 1999
Birmingham, Alabama
VIII
Vince McMahon and Shane McMahon defeated Steve Austin
Handicap ladder match for 100% WWF ownership
King of the Ring
June 27 1999
Greensboro, North Carolina
IX
New Brood (Matt and Jeff Hardy) defeated Edge & Christian
Tag Team ladder match in the final of Terri Invitational Tournament to win Terri Runnels' managerial services and $100,000
No Mercy
October 17 1999
Cleveland, Ohio
X
Edge & Christian defeated The Hardy Boyz and The Dudley Boyz
Triangle ladder match for the WWF Tag Team Championship
WrestleMania 2000
April 2 2000
Anaheim, California
XII
The Hardy Boyz defeated Edge & Christian
Tag Team ladder match for the WWF Tag Team Championship
RAW is WAR
September 25, 2000
State College, Pennsylvania
XIII
Chris Jericho defeated Chris Benoit
Ladder match for the WWF Intercontinental Championship
Royal Rumble
January 21 2001
New Orleans, Louisiana
XV
Kurt Angle defeated Chris Benoit
Third fall in a Three Stages of Hell match
Judgment Day
May 20, 2001
Sacramento, California
XVII
Rob Van Dam defeated Jeff Hardy
Ladder match for the WWF Hardcore Championship
SummerSlam
August 19, 2001
San Jose, California
XVIII
Edge defeated Christian
Ladder match for the WWF Intercontinental Championship
No Mercy
October 21, 2001
St. Louis, Missouri
XIX
Rob Van Dam defeated Eddie Guerrero
Ladder match for the WWE Intercontinental Championship
WWE Raw
May 27, 2002
Edmonton, Alberta
XX
The Undertaker defeated Jeff Hardy
Ladder match for the WWE Undisputed Championship
WWE Raw
July 1, 2002
Manchester, New Hampshire
XXI
Rob Van Dam defeated Jeff Hardy
Ladder match to unify the WWE Intercontinental Championship and the WWE European Championship
WWE Raw
July 22, 2002
Grand Rapids, Michigan
XXIII
Triple H defeated Shawn Michaels
Third fall in a Three Stages of Hell match for the World Heavyweight Championship
Armageddon
December 15, 2002
Sunrise, Florida
XXIV
Eddie Guerrero & Tajiri defeated Team Angle
Tag Team ladder match for the WWE Tag Team Championship
Judgment Day
May 18, 2003
Charlotte, North Carolina
XXV
Rob Van Dam defeated Christian
Ladder match for the WWE Intercontinental Championship
WWE Raw
September 29, 2003
Chicago, Illinois
XXVI
Chris Jericho defeated Christian
Ladder match for the vacant WWE Intercontinental Championship
Unforgiven
September 12, 2004
Portland, Oregon
XXVII
Kurt Angle defeated Mike Haywood
Angle Invitational ladder match
SmackDown!
March 10, 2005
Roanoke, Virginia
XXVIII
Edge defeated Chris Jericho, Shelton Benjamin, Chris Benoit, Christian (w/Tyson Tomko), and Kane
Money in the Bank ladder match
WrestleMania 21
April 3 2005
Los Angeles, California
XXIX
Rey Mysterio defeated Eddie Guerrero
Ladder match for the custody of Dominick
SummerSlam
August 21, 2005
Washington, D.C.
XXX
Edge (w/ Lita) defeated Matt Hardy
Loser Leaves Raw Money in the Bank ladder match
WWE Homecoming
October 3, 2005
Dallas, Texas
XXXII
Rob Van Dam defeated Matt Hardy, Finlay, Shelton Benjamin, Bobby Lashley, and Ric Flair
Money in the Bank II
WrestleMania 22
April 2, 2006
Chicago, Illinois
XXXIII
Sabu defeated Rob Van Dam
To become the No. 1 Contender for the ECW World Championship
ECW on Sci-Fi
August 15, 2006
Washington, D.C.
XXXV
Rob Van Dam defeated The Big Show
To become the No. 1 Contender for the ECW World Championship
ECW on Sci-Fi
October 24, 2006
St. Louis, Missouri
XXXVI
Jeff Hardy defeated Johnny Nitro</sup>
Ladder match for the WWE Intercontinental Championship
WWE Raw
November 20, 2006
Baltimore, Maryland
XXXVII
Paul London and Brian Kendrick defeated William Regal & Dave Taylor, MNM, and The Hardys
Ladder match for the WWE Tag Team Championship
Armageddon
December 17, 2006
Richmond, Virgina
XXXVIII
Mr. Kennedy defeated Edge, CM Punk, King Booker, Jeff Hardy, Matt Hardy, Finlay and Randy Orton
Money in the Bank III
WrestleMania 23
April 1, 2007
Detroit, Michigan
XXXIX
The Hardys defeated the World's Greatest Tag Team
Tag Team ladder match for the World Tag Team Championship
One Night Stand
June 3, 2007
Jacksonville, Florida
XL
Jeff Hardy defeated Carlito
Ladder match for the WWE Intercontinental Championship
WWE Raw's 15th Anniversary
December 10, 2007
Bridgeport, Connecticut
XLI
CM Punk defeated Carlito, Montel Vontavious Porter, Chris Jericho, Shelton Benjamin, Mr. Kennedy and John Morrison
Money in the Bank IV
WrestleMania XXIV
March 30, 2008
Orlando, Florida
XLII
Chris Jericho defeated Shawn Michaels
Ladder match for the World Heavyweight Championship
No Mercy
October 5, 2008
Portland, Oregon
XLIII
CM Punk defeated Kane, Montel Vontavious Porter, Kofi Kingston, Mark Henry, Christian and Finley
Money in the Bank Ladder match
WrestleMania 25
April 5,         2009            Houston, Texas
XLIV
Jeff Hardy defeated Edge
Ladder match for the World Heavyweight Championship
Extreme Rules
June 7,           2009            New Orleans Arena
XLV
CM Punk defeated Jeff Hardy
Tables, Ladders & Chairs match for the World Heavyweight Championship
SummerSlam
August 23,     2009             Los Angeles, California   
XLVI
Christian defeated Shelton Benjamin
Ladder match for the ECW Championship
TLC: Tables, Ladders & Chairs
December 13, 2009              San Antonio, Texas    
XLVII
D-Generation-X defeated Jeri-Show
Tables, Ladders and Chairs Match for the Unified WWE Tag Team Championship
TLC:Tables, Ladders & Chairs
December 13, 2009             San Antonio, Texas   
XLVIII
Jack Swagger defeated Christian, Matt Hardy, Kane, Drew McIntyre, Kofi Kingston, Dolph Ziggler, Shelton Benjamin, Montel Vontavious Porter and Evan Bourne
Money in the Bank Ladder match
WrestleMania XXVI
March 28, 2010              Glendale, Arizona       
XLIX
Kane defeated Big Show, Matt Hardy, Christian, Kofi Kingston, Cody Rhodes, Drew McIntyre and Dolph Ziggler
SmackDown Money in the Bank Ladder match
Money in the Bank
July 18,         2010             Kansas City, Missouri    
L
The Miz defeated Randy Orton, Chris Jericho, Edge, Evan Bourne, John Morrison, Mark Henry and Ted Dibiase
Raw Money in the Bank Ladder match
Money in the Bank
July 18,         2010             Kansas City, Missouri   
LI
John Morrison defeated King Sheamus
Ladder match to determine the number one contender for the WWE Championship
TLC: Tables, Ladders & Chairs
December 19, 2010            Houston, Texas    
LII
Edge defeated Kane, Rey Mysterio and Alberto Del Rio
Four Way Tables, Ladders and Chairs match for the World Heavyweight Championship
TLC: Tables, Ladders & Chairs
December 19, 2010        Houston, Texas
LIII
Christian defeated Alberto Del Rio
Ladder match for the vacant World Heavyweight Championship
Extreme Rules
May 1,         2011            St. Pete Times Forum    
LIV
Daniel Bryan defeated Kane, Sin Cara, Wade Barrett, Cody Rhodes, Justin Gabriel, Heath Slater and Sheamus
SmackDown Money in the Bank Ladder Match
Money in the Bank

July 17, 2011          Allstate Arena

LV
Alberto Del Rio defeated Rey Mysterio, R-Truth, Kofi Kingston, Alex Riley, The Miz, Evan Bourne and Jack Swagger
Raw Money in the Bank Ladder Match
Money in the Bank
July 17, 2011  Allstate Arena
LVI
CM Punk defeated The Miz and Alberto Del Rio
Triple Threat Tables, Ladders & Chairs match for the WWE Championship
TLC: Tables, Ladders & Chairs
December 16, 2011        1st Mariner Arena
LVII
Dolph Ziggler defeated Damien Sandow, Tyson Kidd, Christian, Santino Marella, Tensai, Cody Rhodes and Sin cara
Money in the Bank Ladder Match for a World heavyweight Championship match
Money in the Bank
July 15,       2012            U.S. Airways Center
LVIII
John Cena defeated Kane, Chris Jericho, Big Show and The Miz
Money in the Bank Ladder match for a WWE Championship match
Money in the Bank
July 15,       2012          U.S. Airways Center
LIX
Dolph Ziggler defeated John Cena
Ladder match for Ziggler's Money in the Bank Contract
TLC: Tables, Ladders & Chairs
December 16,             2012            Barclays Center
LX
Danien Snadow defeated Wade Barrett, Cody Rhodes, Dean Ambrose, Fandango, Jack Swagger and Antonio Cesaro
Money in the Bank Ladder Match for a World Heavyweight Championship match
Money in the Bank
July 13,       2013            Wells Fargo Center
LXI
Randy Orton defeated Rob van Dam, CMp Punk, Daniel Bryan, Sheamus and Christian
Money in the Bank Ladder Match for a WWE Championship match
Money in the Bank
July 13,       2013            Wells Fargo Center
LXII
WWE Champion Randy Orton defeated World Heavyweight Champion John Cena
Tables, Ladders & Chairs match to unify the WWE Championship and World Heavyweight Championship into the WWE World Heavyweight Championship
TLC: Tables, Ladders & Chairs

December 15, 2013            Toyota Center
External links