John Bradshaw Layfield
Talk

0
21,769pages on
this wiki
Stub

This article is a

stub

, an article too short to provide more than rudimentary information about a subject. You can

help

Pro Wrestling Wiki by

expanding it

.
John Layfield

Statistics

Ring Names
Bradshaw
Blackjack Bradshaw
Death Mask
Justin Bradshaw
John Hawk
Texas Hawk
John Bradshaw Layfield
Vampiro Americano
Height
6 ft 6 in (1.98 m)
Weight
290 lbs (130 kg)
Born
November 29 1967
Athens, Texas
Died
Resides
New York City, New York
Billed
Trained by
Brad Rheingans
Debut
September 23, 1992
Retired
April 6, 2009
John Charles Layfield (November 29, 1966) is an American retired professional wrestler and current wrestling commentator and wrestling show host both for WWE. Outside of his WWE work, Layfield is a financial analyst for Fox News. Layfield is best known by his ring names, Justin "Hawk" Bradshaw, Blackjack Bradshaw, Bradshaw and John "Bradshaw" Layfield (JBL), while working for World Wrestling Entertainment (WWE), where he was WWE Champion for 280 days.
Layfield's main gimmick as JBL – a wealthy, gladhanding, big-mouthed, fiery-tempered businessman – was based on Layfield's real-life accomplishments as a stock market investor. Layfield is a guest panelist on Fox News Channel's The Cost of Freedom, has appeared on CNBC, and has written a best-selling book on financial planning called Have More Money Now. (ISBN 0-7434-6633-0). Layfield also hosts a weekend talk radio program, syndicated nationally by conservative political views.
In WWE, Layfield won 24 total championships including one reign as WWE Champion, one reign as United States Champion, one reign as European Champion, seventeen reigns as Hardcore Champion, one reign as Intercontinental Champion, and three reigns as World Tag Team Champion with Faarooq as part of the Acolytes Protection Agency (APA). He is also recognized as the twentieth Triple Crown Champion, and the twelfth Grand Slam Champion.
Since December 7, 2012, Layfield and fellow WWE commentator Michael Cole, both notorious for their mouthy and aggressively opinionated gimmicks, have hosted their very own WWE Youtube series, The JBL and Cole Show.
Football
Prior to his professional wrestling career, Layfield was a collegiate American football coach for Trinity Valley Community College and player for Abilene Christian University. At Abilene, Layfield was a two-year starter on the offensive line and was named first-team All-Lone Star Conference as a junior and senior. Layfield signed with the Los Angeles Raiders as an undrafted free agent, but was released before the 1990 season began. Layfield did play in the World League of American Football, starting all ten games of the 1991 season at right tackle for the San Antonio Riders, wearing jersey number 61.
Professional wrestling career
Global Wrestling Federation (1992–1994)
Layfield was trained initially by Brad Rheingans and first started wrestling in the Global Wrestling Federation (GWF) in Texas. His first gimmick was as Johnny Hawk, storyline cousin of the Windham brothers. He formed the tag team "Texas Mustangs" with Bobby Duncum, Jr.; they quickly won the GWF Tag Team Championship from Rough Riders (Black Bart and Johnny Mantell) on November 27 but dropped the titles to Bad Breed (Ian and Axl Rotten) on January 29, 1993. Later that year, Hawk won his second GWF Tag Team Championship with Black Bart on December 25 from Steve Dane and Chaz Taylor. They held the title for a long time before losing them to The Fabulous Freebirds (Jimmy Garvin and Terry Gordy) on June 3, 1994. Layfield also won the NWA North American Heavyweight Championship on January 14, 1995, defeating Kevin Von Erich. Two months later, he lost the NWA North American Title to Greg "The Hammer" Valentine.
Wrestling facts
Finishing and signature moves
"Hawk"
"JBL"
"Wrestling God"
Championships and accomplishments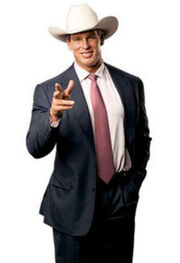 See also
External links