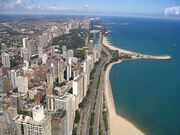 Illinois is the fifth-most populous state of the United States of America, and is often noted for being a microcosm of the entire country. With Chicago in the northeast, small industrial cities and great agricultural productivity in central and northern Illinois, and natural resources like coal, timber, and petroleum in the south, Illinois has a broad economic base. Illinois is a major transportation hub. The Port of Chicago connects the state to other global ports from the Great Lakes, via the St. Lawrence Seaway, to the Atlantic Ocean; as well as the Great Lakes to the Mississippi River, via the Illinois River. For decades, O'Hare International Airport has ranked as one of the world's busiest airports. As the "most average state", Illinois has long had a reputation as a bellwether both in social and cultural terms and politics.
Cities
Arenas
Events
Promotions
Wrestlers
External links
Ad blocker interference detected!
Wikia is a free-to-use site that makes money from advertising. We have a modified experience for viewers using ad blockers

Wikia is not accessible if you've made further modifications. Remove the custom ad blocker rule(s) and the page will load as expected.