{{Infobox Championship
| championshipname = IPW Armageddon Cup
| image =
| currentholder = Brian St James
| won = 26/10/2009
| promotion = Impact Pro Wrestling NZ
| titleretired =
| pastnames =
| mostreigns = Joesph Kinkade
| firstchamp = The Economist}}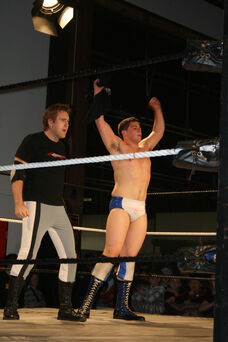 Stub

This article is a

stub

, an article too short to provide more than rudimentary information about a subject. You can

help

Pro Wrestling Wiki by

expanding it

.
IPW Armageddon Cup Championship
Details
This trophy is fought for in Impact Pro Wrestling only at the Armageddon Conventions that run alternately in Auckland, Wellington and Christchurch. The Economist became the first Armageddon Cup champion after winning it in a Battle Royal match in Wellington. Current champion Brian St. James won the cup after defeating A-Class in the finals at Auckland Armageddon.
History
The cup was created after IPW became an attraction at New Zealand's premier convention, Armageddon Expo. It was at its time consider to be higher than any other belt apart from the IPW NZ Heavyweight Championship. It should be noted that the history of the Armageddon Cup is rich as several of its past holders have gone on to win the IPW NZ Heavyweight Championship.
Ad blocker interference detected!
Wikia is a free-to-use site that makes money from advertising. We have a modified experience for viewers using ad blockers

Wikia is not accessible if you've made further modifications. Remove the custom ad blocker rule(s) and the page will load as expected.