Hungary
is a landlocked country in Central Europe. It is situated in the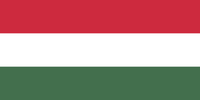 Carpathian Basin and is bordered by
Slovakia
to the north,
Ukraine
and
Romania
to the east,
Serbia
and
Croatia
to the south,
Slovenia
to the southwest and
Austria
to the west. The country's capital and largest city is Budapest. Hungary is a member of the European Union, NATO, the OECD, the Visegrad Group, and the Schengen Area. The official language is Hungarian, which is the most widely spoken non-Indo-European language in Europe.
Cities
Arenas
Events
Promotions
Wrestlers
See also
External links
Ad blocker interference detected!
Wikia is a free-to-use site that makes money from advertising. We have a modified experience for viewers using ad blockers

Wikia is not accessible if you've made further modifications. Remove the custom ad blocker rule(s) and the page will load as expected.