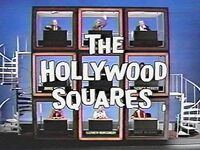 The Hollywood Squares is an American panel game show, in which two contestants play tic-tac-toe to win cash and prizes. The board for the game is a 3 × 3 vertical stack of open-faced cubes, each occupied by a celebrity seated at a desk and facing the contestants. The stars are asked questions by the host, and the contestants judge the truth of their answers to gain squares in the right pattern to win the game.
External links
Ad blocker interference detected!
Wikia is a free-to-use site that makes money from advertising. We have a modified experience for viewers using ad blockers

Wikia is not accessible if you've made further modifications. Remove the custom ad blocker rule(s) and the page will load as expected.