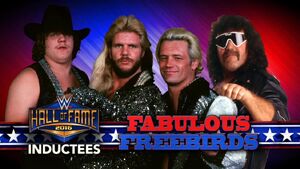 The Fabulous Freebirds, one of the most infamous and influential groups in sport-entertainment history, will finally be inducted into the WWE Hall of Fame on the eve of WrestleMania 32. As first reported by Rolling Stone, The Freebirds will be immortalized in Dallas, the city they famously antagonized in their heyday.
The group was founded in 1979, when Michael "P.S." Hayes, Terry "Bam Bam" Gordy and Buddy "Jack" Roberts joined forces to wreak havoc on professional wrestling. Gordy provided raw power and fury, Roberts lent his technical prowess and Hayes was dripping with charisma that made sure the spotlight was always on them. The Fabulous Freebirds quickly found success in the Georgia territory, where they captured the NWA National Tag Team Titles and instituted the "Freebird Rule," where any two members of the trio could defend the titles.
After running roughshod through Georgia, The Freebirds made their way to Texas and World Class Championship Wrestling, where their careers changed forever. On Christmas Night 1982, during Kerry Von Erich's NWA World Title Steel Cage Match with Ric Flair, Gordy slammed the cage door shut on Von Erich's head, costing him the title and setting off a rivalry that would captivate The Lone Star State during the '80s. The ruthless Freebirds battled the clean-cut Von Erich family in some of the most heated wars in squared circle history.
It was during this time that the Freebirds revolutionized the industry in another way. After years of using Lynyrd Skynyrd's southern rock anthem "Freebird" as their entrance music, Hayes recorded "Badstreet U.S.A." in 1983, a hard-rocking tune that became synonymous with the group and opened the door for competitors to have individual, original entrance music.
The Freebirds had a brief run in WWE, before heading back down south, this time to Bill Watts' Universal Wrestling Federation. There, Gordy won the promotion's top title and Roberts became Television Champion, all while Hayes backed them up and sung their praises while honing his skills as a color commentator.
As the '80s drew to a close, Hayes and Gordy made their way to World Championship Wrestling, with longtime Freebird ally Jimmy "Jam" Garvin joining them as an official member of the group. Hayes and Garvin made an immediate impact, winning a tournament at Clash of the Champions VII to become the NWA World Tag Team Champions — titles they held on two occasions, in addition to two reigns as United States Tag Team Champions and a run with the WCW Six-Man Tag Team Titles.
Though they disbanded in the early 1990s, The Fabulous Freebirds' influence can be felt to this day. The Freebird Rule has been used by numerous teams over the years, including Demolition, the nWo Wolfpac and reigning WWE Tag Team Champions The New Day.
See also