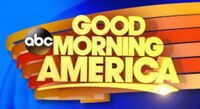 Good Morning America (GMA) is an American morning television show that is broadcast on ABC. It debuted on November 3, 1975, and first expanded to weekends with the debut of a Sunday edition on January 3, 1993. The Sunday edition was later canceled in 1999; weekend editions returned on both Saturdays and Sundays on September 4, 2004. The weekday program airs from 7:00 to 9:00 a.m. in all U.S. time zones (live in the Eastern Time Zone and on tape delay elsewhere across the country); the Saturday and Sunday editions are one hour long and is transmitted to ABC's stations live at 7:00 a.m. Eastern Time, although stations in some markets air the weekend broadcasts either one hour earlier or later than the 7:00 a.m. slot. A third hour of the weekday broadcast aired from 2007 to 2008, exclusively on ABC News Now.
External links
Ad blocker interference detected!
Wikia is a free-to-use site that makes money from advertising. We have a modified experience for viewers using ad blockers

Wikia is not accessible if you've made further modifications. Remove the custom ad blocker rule(s) and the page will load as expected.