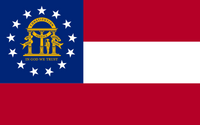 Georgia is a state located in the southeastern United States. It was established in 1732, the last of the original Thirteen Colonies. The state is named after King George II, of Great Britain. Georgia was the fourth state to ratify the United States Constitution, on January 2, 1788. It declared its secession from the Union on January 21, 1861, and was one of the original seven Confederate states. It was the last state to be restored to the Union, on July 15, 1870.
The 2010 US Census reported 9,687,653 residents, making Georgia the ninth most populous state. From 2007 to 2008, 14 of Georgia's counties ranked among the nation's 100 fastest-growing, second only to Texas. Georgia is known as the Peach State and the Empire State of the South. Atlanta is the capital and the most populous city.
Cities
Arenas
Events
Promotions
Wrestlers
External links
Ad blocker interference detected!
Wikia is a free-to-use site that makes money from advertising. We have a modified experience for viewers using ad blockers

Wikia is not accessible if you've made further modifications. Remove the custom ad blocker rule(s) and the page will load as expected.