GFW Amped is a professional wrestling television series produced by Global Force Wrestling (GFW). The series features the professional wrestlers of Global Force Wrestling competing in matches, along with interviews from the wrestlers that has yet to make it's television debut in the United States.
History
The inaugural television tapings the company will hold are scheduled to take place at the The Orleans Arena in Las Vegas, Nevada. The first three events are scheduled to take place on July 24, 2015, August 21, 2015 and October 23, 2015. Throughout May 2015, GFW announced their roster for the first TV tapings. On May 12, GFW announced that four champions will be crowned at the July 24 tapings in Las Vegas. On July 9, 2015, Jeff Jarrett announced that the name of the GFW TV show will be Amped.
International TV Distribution Deal
| Country | Network | Ref |
| --- | --- | --- |
| United Kingdom | Boulder Creek International | |
| France | International Market of Communications Programmes | |
| Monaco | Sports Content Media Convention | |
Commentator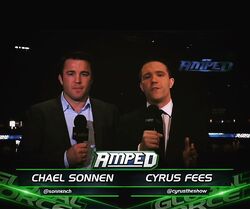 Ring Announcer
Ad blocker interference detected!
Wikia is a free-to-use site that makes money from advertising. We have a modified experience for viewers using ad blockers

Wikia is not accessible if you've made further modifications. Remove the custom ad blocker rule(s) and the page will load as expected.