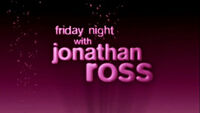 Friday Night with Jonathan Ross was a British comedy chat show presented by Jonathan Ross. It was first broadcast on BBC One on 2 November 2001. The programme featured Ross's take on current topics of conversation, guest interviews (usually three per show) and live music from both a guest music group and the house band. The show began its final series in January 2010, and ended on 16 July 2010.
External links
Ad blocker interference detected!
Wikia is a free-to-use site that makes money from advertising. We have a modified experience for viewers using ad blockers

Wikia is not accessible if you've made further modifications. Remove the custom ad blocker rule(s) and the page will load as expected.