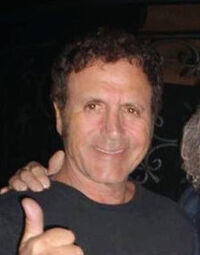 Frank P. Stallone, Jr. (July 30, 1950) is an American actor, singer/guitarist and Golden Globe and Grammy Award-nominated songwriter. He has appeared in many Hollywood films and television. He is the younger brother of Sylvester Stallone.
Wrestling career
Stallone was a contestant on Hulk Hogan's Celebrity Championship Wrestling, a new reality competition series on CMT that follows 10 celebrity contestants as they are trained to be professional wrestlers. He was the second celebrity eliminated and was also eliminated in the second episode.
External links
Ad blocker interference detected!
Wikia is a free-to-use site that makes money from advertising. We have a modified experience for viewers using ad blockers

Wikia is not accessible if you've made further modifications. Remove the custom ad blocker rule(s) and the page will load as expected.