Fluorescent light tubes are weapons that are typical used in controversial death matches or hardcore wrestling matches. Many injuries have resulted from the use of Fluorescent light tubes.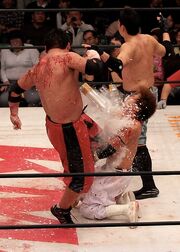 Videos
Lightbulb Death Match at the Gathering of the Juggalos
See also
Ad blocker interference detected!
Wikia is a free-to-use site that makes money from advertising. We have a modified experience for viewers using ad blockers

Wikia is not accessible if you've made further modifications. Remove the custom ad blocker rule(s) and the page will load as expected.