Ad blocker interference detected!
Wikia is a free-to-use site that makes money from advertising. We have a modified experience for viewers using ad blockers

Wikia is not accessible if you've made further modifications. Remove the custom ad blocker rule(s) and the page will load as expected.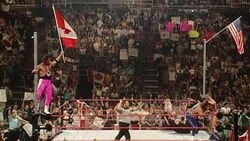 The Flag match is essentially the professional wrestling version of capture the flag. For the match two flags are placed on opposite turnbuckles, each representing a specific wrestler or team of wrestlers, and the object of the match is to retrieve the opponent's flag and raise it while defending the flag in the wrestler's corner.
An Anthem match is a variant of a Flag match with the added stipulation that the national anthem of the winning wrestler or team will be played in the arena after the match.
History of the Flag match
No.
Match
Event
Date
Location
1
Don Kernodle defeats Ivan Koloff
MACW TV Taping
December 25, 1984
Charlotte, North Carolina
2
Don Kernodle defeats Ivan Koloff
MACW
January 2, 1985
Raleigh, North Carolina
3
Don Kernodle defeats Ivan Koloff in a Lights out Flag Cage Match
MACW Golden Anniversary
January 6, 1985
Greensboro, North Carolina
4
Don Kernodle defeats Ivan Koloff
MACW
January 7, 1985
Fayetteville, North Carolina
5
Don Kernodle defeats Ivan Koloff
MACW
January 13, 1985
Asheville, North Carolina
6
Ivan Koloff defeats Don Kernodle in a Lumberjack Flag match
MACW
January 18, 1985
Richmond, Virginia
7
Don Kernodle & Ricky Steamboat vs. The Russians (Ivan Koloff & Nikita Koloff)
NWA Worldwide
February 5, 1985 (taped)
February 9, 1985 (broadcast)
Philadelphia, Pennsylvania
8
Hulk Hogan (c) defeats Nikolai Volkoff
Saturday Night's Main Event II
October 3, 1985
East Rutherford, New Jersey
9
Corporal Kirchner defeats Nikolai Volkoff
WrestleMania II
April 7, 1986
Rosemont, Illinois
10
Jim Duggan defeats Dino Bravo
King of the Ring 1988
[[October 16]], 1988
Providence, Rhode Island
11
Jim Duggan defeats Boris Zhukov
Saturday Night's Main Event XVIII
November 16, 1988
Sacramento, California
12
Jim Duggan defeats Dino Bravo
WWF House Show
December 26, 1988
Hershey, Pennsylvania
13
Jim Duggan defeats Dino Bravo
WWF on MSG Network
December 30, 1988
New York City, New York
14
Jim Duggan defeats Dino Bravo
WWF House Show
December 31, 1988
Hartford, Connecticut
External links