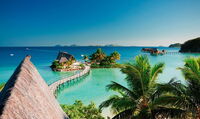 Fiji, officially the Republic of Fiji, is an island country in Melanesia in the South Pacific Ocean about 1,100 nautical miles (2,000 km; 1,300 mi) northeast of New Zealand's North Island. Its closest neighbours are Vanuatu to the west, New Caledonia to the southwest, New Zealand's Kermadec Islands to the southeast, Tonga to the east, the Samoas and France's Wallis and Futuna to the northeast, and Tuvalu to the north.
Fiji is an archipelago of more than 332 islands, of which 110 are permanently inhabited, and more than 500 islets, amounting to a total land area of about 18,300 square kilometres (7,100 sq mi). The farthest island is Onu-i-Lau. The two major islands, Viti Levu and Vanua Levu, account for 87% of the population of almost 860,000. The capital and largest city, Suva, is on Viti Levu. About three-quarters of Fijians live on Viti Levu's coasts, either in Suva or in smaller urban centres like Nadi (tourism) or Lautoka (sugar cane industry). Viti Levu's interior is sparsely inhabited due to its terrain.
Wrestlers
Also see
External Links
Ad blocker interference detected!
Wikia is a free-to-use site that makes money from advertising. We have a modified experience for viewers using ad blockers

Wikia is not accessible if you've made further modifications. Remove the custom ad blocker rule(s) and the page will load as expected.