Ad blocker interference detected!
Wikia is a free-to-use site that makes money from advertising. We have a modified experience for viewers using ad blockers

Wikia is not accessible if you've made further modifications. Remove the custom ad blocker rule(s) and the page will load as expected.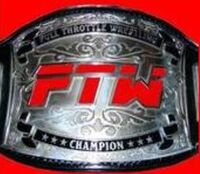 The FTW World Championship is the most prestigious championship in Full Throttle Wrestling. The championship was first introduced at the May 4, 2008 return episode of FTW Outbreak. The cream of the crop is in this division. Whether a lighter wrestler, or heavy-set, it doesn't matter. The World Championship division is for the best of the best and where most Inferno and Shockwave wrestlers strive to reach. Wrestlers from any division who show promise may eventually find themselves here competing for the richest prize in the game.
Champion history
As of December 7, 2016.
| Wrestler: | Date won: | Date lost: |
| --- | --- | --- |
| Billy Jackson | May 4, 2008 | July 30, 2008 |
| Sam Horrey | July 30, 2008 | August 20, 2008 |
| Billy Jackson | August 20, 2008 | December 31, 2008 |
| Ravi Moon | December 31, 2008 | December 31, 2008 |
| Vacant | | |
| Nick Corvo | January 31, 2009 |  ???? |
| Simon Swinger | January 01, 2010 | March 17, 2010 |
| Daniel Strong | March 17, 2010 | April 30, 2010 |
| Gabriella | May 01, 2010 | July 28, 2010 |
| William Haze | July 28, 2010 | November 03, 2010 |
| Nick Malone | November 03, 2010 | November 24, 2010 |
| Dan Hayter | November 24, 2010 | December 31, 2010 |
| Lynch | December 31, 2010 | Current Champion |
FTW Championships