Ad blocker interference detected!
Wikia is a free-to-use site that makes money from advertising. We have a modified experience for viewers using ad blockers

Wikia is not accessible if you've made further modifications. Remove the custom ad blocker rule(s) and the page will load as expected.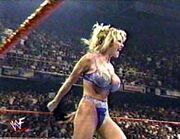 The Evening Gown Match is not all that unlike the Bra and Panties match. The object of this contest, however, is to simply strip off your opponent's evening gown from her body (rather than stripping her usual ring attire).
History of the Evening Gown match
| No. | Match | Event, date and location |
| --- | --- | --- |
| I | Luna Vachon (with Goldust) defeated Sable in (2:50) | In Your House 21: Unforgiven, April 26, 1998, Greensboro, North Carolina |
| II | Sable defeated Jacqueline | WWE Raw, September 14, 1998 |
| III | Tori defeated Ivory | WWE Friday Night SmackDown!, August 26, 1999 |
| IV | Nicole Bass defeated Debra | WWE Raw, May 3, 1999 |
| V | Sable defeated Debra, but Shawn Michaels declared Debra the winner because she lost her dress first. As a result, Debra became the Women's Champion | WWE Raw, May 10, 1999 |
| VI | Al Snow defeated Droz in an Evening Gown Match to retain the WWE Hardcore Championship | WWE Raw, June 12, 1999 |
| VII | The Fabulous Moolah and Mae Young defeated Ivory in a Handicap Match | WWE Raw, September 27, 1999 |
| VIII | Miss Mona defeated Madusa in a New York Evening Gown Match | WCW Monday Nitro, October 18, 1999 |
| IX | Madusa defeated Oklahoma | WCW Thunder, January 12, 2000 |
| X | Pat Patterson vs. Gerald Brisco in a Hardcore Evening Gown Match. Crash Holly snuck in to win the WWE Hardcore Championship | King of the Ring 2000, June 25, 2000, Boston, Massachusetts |
| XI | Daffney Unger defeated Ms. Hancock in a "Wedding Gown" match | Bash at the Beach 2000, July 9, 2000, Dayton Beach, Florida |
| XII | Midajah defeated Queen Bea | World Wrestling All-Stars, April 12, 2002, Melbourne, Australia |
| XIV | Taylor Vaughn defeated Bruce for the Miss TNA Crown | TNA event, April 12, 2002, Nashville, Tennessee |
| XV | Lilian Garcia defeated Howard Finkel in an Evening Gown/Tuxedo Match to become the ring announcer | WWE Raw, August 22, 2002 |
| XVI | Violet defeated One Dirty Bitch | Pro Wrestling America, December 7, 2002, Minneapolis, Minnesota |
| XVII | Krystal Frost defeated Jazmynn Viktoria | NWA East, February 15, 2003 |
| XVIII | Cheerleader Melissa defeated Chris Colioni in an Evening Gown/Tuxedo Match | All Pro Wrestling Holiday Hell, October 25, 2003, Hayward, California |
| XIV | Nexus defeated Larry Angel | Extreme Wrestling Entertainment, October 29, 2003, St. Johns, NF |
| XV | Hellcat defeated Missy Hyatt | BANG, November 27, 2003, Ocala, Florida |
| XVI | Torrie Wilson & Sable defeated Miss Jackie & Stacy Keibler in a "Playboy Evening Gown Match" | WrestleMania XX, March 14, 2004, New York, New York |
| XV | Cheerleader Melissa defeated Larry Blackwell in an Evening Gown/Tuxedo match | All Pro Wrestling, December 4, 2004, Hayward, California |
| XVI | The Slackers (Chad Bowman and Dino Devine with Angela) defeated The Holy Rollers (Earl The Pearl and Ramblin Rich with Jim Christian) | Maryland Championship Wrestling Xtreme Measures, May 7, 2006 |
| XVII | Angela defeated Cris The Cross Dresser | Dangerous Women of Wrestling, May 24, 2006 |
| XVIII | Christy Hemme defeated Big Fat Oily Guy | Against All Odds 2007, February 12, 2007 |
| XIX | Luscious Latasha vs. Lea Morrison was declared a No-Contest | Top Rope Wrestling, July 21, 2007 |
| XX | Nikki Roxx (Evening Gown) defeated Sean Gorman (Tuxedo) in a Ballroom Blitz Match | NECW Birthday Bash 7: Caged Fury, August 18, 2007 |
Gorgeous George defeated Pussy Willow WEW PPV Newark,NY June ??, 2004
Maria defeated Sosay OVW TV 2005
Sara defeated Josh YouTube November 29, 2009
Tommy Furr b. aManDa in a Gay man vs Transwoman Evening Gown Match Freakshow Wrestling Las Vegas, NV. June 9, 2012
Taeler Hendrix b. Epiphany for the OVW Women's Championship Ohio Valley Wrestling: July 7th, 2012 Saturday Night Special Results
Trivia
External links