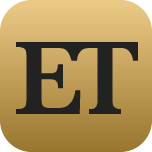 Entertainment Tonight, (stylized as ET), is a daily tabloid entertainment television news show that is syndicated by CBS Television Distribution throughout the United States, in Canada on Global, and in many countries around the world. Until the start of the 2013-14 television season, the program made the claim that it is "the most watched entertainment news magazine in the world" (though by what measures this claim was verified was never revealed). It is the longest-running entertainment news program, with its first broadcast on September 14, 1981, and was the first syndicated program distributed via satellite. Mary Hart served as the show's primary anchor from 1982 until her departure on May 20, 2011. Mark Steines and Nancy O'Dell took on the roles of primary hosts of the show once Hart left. O'Dell then became the sole host of the show after Steines left the show on July 27, 2012. Rob Marciano became Nancy O'Dell's permanent co-host on January 7, 2013.
External links
Ad blocker interference detected!
Wikia is a free-to-use site that makes money from advertising. We have a modified experience for viewers using ad blockers

Wikia is not accessible if you've made further modifications. Remove the custom ad blocker rule(s) and the page will load as expected.