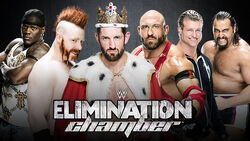 The next Intercontinental Champion will be crowned on May 31, when six Superstars — Sheamus, Dolph Ziggler, Ryback, King Barrett, Rusev, R-Truth and Dolph Ziggler — vie for the vacant title inside the career-altering Elimination Chamber.
The previous champion, Daniel Bryan, was forced to relinquish the vaunted title on the May 11 edition of Raw, in light of recent injuries that have forced the "Yes!" Man onto the sidelines.
Never before has the Intercontinental Championship been on the line inside this inhospitable structure. What Superstars will be named contenders? And just how far will they go inside the dangerous cage, which has irreversibly altered many a Superstar's careers, to win the storied Intercontinental Title?
In addition to being no stranger to the Chamber, Sheamus' general temperament since returning to the squared circle has been nothing short of absolute aggression. His very nature seems to be the personification of the twisted metal itself.
After achieving retribution by making The Celtic Warrior kiss his backside at WWE Payback, Ziggler is surely charged to steal the show once again and walk out of the Elimination Chamber with the Intercontinental Title around his waist. But will the fury of Sheamus ultimately prove to be his downfall?
The powerful Ryback has yet to step inside the Elimination Chamber, a match fitting of his destructive style. When he does on May 31, The Human Wrecking Ball's sights will be set on capturing his first title in WWE.
Fresh off his glorious victory in the King of the Ring Tournament, King Barrett — also experienced in Chamber Matches — is more than ready to justify his rule in battle and finally recapture the title he lost in a Ladder Match at WrestleMania.
Speaking of the concept of taking back what is yours, the brutal Rusev will undoubtable look to win back his pride, after he lost an "I Quit" Match to United States Champion John Cena at WWE Payback. But will his current personal drama involving Lana leave him crushed under the strain? Or will he use it to release steel-infused havoc to bring new glory to the Russian Federation.
The wildcard of The Elimination Chamber may very well be R-Truth. The Rapping Superstar's ability to think outside the box, coupled with his explosive in-ring style and Chamber experience, may be exactly what will win the free-for-all encounter.
See also