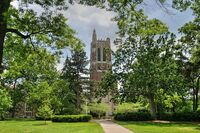 East Lansing is a city in the U.S. state of Michigan. The city is located directly east of Lansing, Michigan, the state's capital. Most of the city is within Ingham County, though a small portion lies in Clinton County. The population was 48,579 at the time of the 2010 census, an increase from 46,420 at the 2000 census. It is best known as the home of Michigan State University.
Arenas
Events
External Links
Ad blocker interference detected!
Wikia is a free-to-use site that makes money from advertising. We have a modified experience for viewers using ad blockers

Wikia is not accessible if you've made further modifications. Remove the custom ad blocker rule(s) and the page will load as expected.