East Coast Wrestling Association
(ECWA) is an American
professional wrestling promotion
founded by Jim Kettner on August 27, 1967. Over the past 15 years the ECWA has become one of the most respected and visible independent wrestling companies in the United States. It is home to the annual
Super 8 Tournament
, one of the top independent wrestling tournaments in the country. The promotion's shows run out of the
Greater Newark Boys and Girls Club
in Newark, Delaware.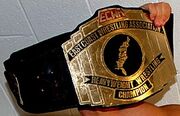 Alumni
Over 700 wrestlers have come through the ECWA during its 39-year history. Many have gone on to success in World Wrestling Entertainment, Total Nonstop Action Wrestling, or become top draws on the independent circuit. Notable alumni include:
Fred Sampson
Danny Gimondo
Reckless Youth
Current champions
ECWA Hall of Fame
Established in 1982, the East Coast Wrestling Association (ECWA) Hall of Fame honors performers and staff members alike for their contributions to the organization. There is no physical location for the Hall of Fame, though the organization acknowledges all inductees on its website.
1982

Red Devil
Jim Kettner
Super Smenkowski
Tiny Tom
Captain Tom
George Koukedis
Mike Schroeder

1983

Big Bill Page
The Maniac
Mr. Funk

1984

1985

The Baron
Dirty Dirk Dunlap
Ruffhouse Rivera
The Bulldog
Sweet Chocolate Thunder
Jim Russum

1986

1987

1988

1992

Viper
The Commando
Commanding Officer
Dazzling Donny Love
Billy K

1994

Dr. Destruction
Nigel Fair Service
Thunder
Boogie Woogie Brown

1995

1996

Ravishing Ronny Roberts
Mr. Ooh La La
Big Al Napier
Bob Densmore
Richard Naegele

2000

2001

2002

2004

2005

Japanese Pool Boy
Scoot Andrews
Chuck Ristano
Paul Turner

2006

Billy Bax
Rob Eckos
Mozart Fontaine
Pete Theophall
Joe Zanolle
External links