December to Dismember 2006 was a professional wrestling pay-per-view (PPV) event produced by World Wrestling Entertainment (WWE), which took place on December 3, 2006 at the James Brown Arena in Augusta, Georgia. Professional wrestling is a type of sports entertainment in which theatrical events are combined with a competitive sport. The buildup to the matches and the scenarios that took place before, during, and after the event, were planned by WWE's script writers. The event starred wrestlers from the ECW brand: storyline expansions of the promotion where employees are assigned to wrestling brands under the WWE banner. Despite it being an ECW brand pay-per-view, wrestlers from the Raw and SmackDown! brands also worked on the pay-per-view. Its name was derived from the December to Dismember event held by the original Extreme Championship Wrestling in 1995.
The main attraction on the event card was an Extreme Elimination Chamber match for the ECW World Championship. It featured wrestlers fighting in a ring surrounded by a steel structure of chain and girders. The six participants were defending champion The Big Show, Bobby Lashley, Rob Van Dam, Hardcore Holly, CM Punk and Test. Lashley won the match and the ECW World Championship after pinning Big Show following a spear. The featured bout on the undercard was a tag team bout between The Hardys (real-life brothers Matt and Jeff) and MNM (Joey Mercury and Johnny Nitro), in which The Hardys were victorious.
Results
Numbers in parentheses indicate the length of the match.

(c) refers to the champion(s) heading into the match.
Elimination Chamber entrances and eliminations
Eliminated
Wrestler
Entered
Weapon
Method of elimination
Time
First
CM Punk
Third
Steel chair
Pinned by RVD after a Five-Star Frog Splash from the top turnbuckle
12:35
Second
Hardcore Holly
First
n/a
Pinned by Test after a big boot
12:45
Third
Rob Van Dam
Second
n/a
Pinned by Test after a diving elbow drop onto a steel chair from the top of The Big Show's pod
14:00
Fourth
Test
Fourth
Crowbar
Pinned by Lashley after a spear
19:42
Fifth
The Big Show
Sixth
Barbed wire
baseball bat
Pinned by Lashley after a spear
24:42
6Winner
Bobby Lashley
Fifth
Table
NA
Other on-screen talent
Commentators

Interviewers

Ring announcer

Referees
See also
DVD & Video Releases
External links
Video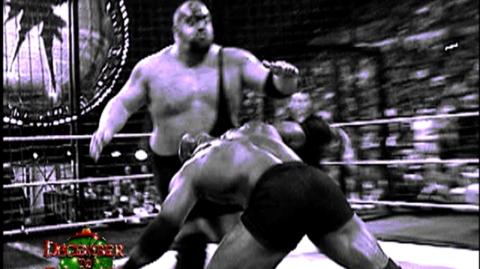 Ad blocker interference detected!
Wikia is a free-to-use site that makes money from advertising. We have a modified experience for viewers using ad blockers

Wikia is not accessible if you've made further modifications. Remove the custom ad blocker rule(s) and the page will load as expected.