Cleanup

To meet

Pro Wrestling Wiki'

s quality standards, this article or section may require cleanup. Please help by

improving

the article.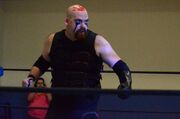 Professional wrestling career
Early career
Darkness debuted August 4, 2013 for Alpha Omega Wrestling against Drake Fortune in Palm Desert, California. Promotional videos were shown before his debut showing attacks on Fortune and his tag team partner Steven Andrews. Darkness was brought to the ring in an upright coffin by his manager "The Mastermind" J.J. Young who controlled him by mystical forces. Darkness and Young feuded with Fortune throughout the Fall in various types of matches with the culmination of a No Disqualification Casket Match which Darkness lost due to outside interference from Andrews and Specter.
After the Casket match Darkness ventured outside of AΩW and competed in the debut show of "I Am Independent Pro Wresting" as well as Brian Kendrick's "Wrestling Pro Wrestling" in Los Angeles, California and TWF in Turlock California.
Dirk Ness-Tucker (2014–2015)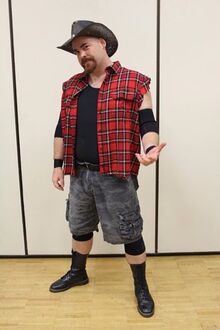 In July 2014 Darkness was facing "The American Oni" when his head was hit between the ring post and a chair from Oni. "The Master Mind" J.J. Young lost control over Darkness as he fled the arena. The week following a video was posted declaring that Dirk Ness-Tucker was the actual personality behind Darkness and that Young had possessed him and used him as his personal instrument of destruction to take his revenge on Fortune.
Dirk revealed that he was the nephew of former owner "Stepdaddy" Roscoe Tucker and they aligned to fight the "Regime" faction who had taken control of AΩW away from Stepdaddy.
Darkness Returns (2015-present)
On February 20, 2015 Darkness returned, making his debut in Portland, Oregon in the National Wrestling Alliance sanctioned Blue Collar Wrestling (BCW) against Blake Grayson and was added to the roster where he wrestles on a regular basis.
Upon his arrival Darkness started carrying a skull to ringside where he would converse with it and receive orders and advice. On a few occasions when his opponent is getting an upper hand Darkness would actually have arguments with the skull and become frustrated. After a match with Psydsho who attempted to steal the skull Darkness employed a minion only known as "The keeper of the skull" to protect the skull which now resided in an ornate wooden box that the keeper carries at ringside.