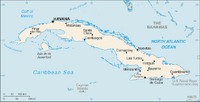 Cuba, officially the Republic of Cuba, is an island country in the Caribbean. The nation of Cuba comprises the main island of Cuba, the Isla de la Juventud, and several archipelagos. Havana is the capital of Cuba and its largest city. The second largest city is Santiago de Cuba. To the north of Cuba lies the United States (150 km or 93 mi away) and the Bahamas are to the northeast, Mexico is to the west (210 km or 130 mi away), the Cayman Islands and Jamaica are to the south, and Haiti and the Dominican Republic are to the southeast.
Cities
Arenas
Events
Promotions
Wrestlers
Also see
External Links
Ad blocker interference detected!
Wikia is a free-to-use site that makes money from advertising. We have a modified experience for viewers using ad blockers

Wikia is not accessible if you've made further modifications. Remove the custom ad blocker rule(s) and the page will load as expected.