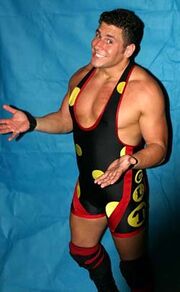 The following is a list of events that Scott Colton has participated in.
12-7-02: ROH: Night Of The Butcher: beat CM Punk in his ROH debut.
12-28-02: ROH: Final Battle: lost to CM Punk.
1-11-03: Revenge of the Prophecy: fell to Paul London [W], Homicide and BJ Whitmer in a 4-Way.
2-8-03: ROH: 1st Anniversary: fell to EZ Money [W], Michael Shane and Chad Collyer in a 4-Way.
3-22-03: ROH: Night of Champions: & Raven beat CM Punk & Ace Steel.
4-12-03: ROH: Epic Encounter: lost to Samoa Joe [W], Tom Carter and Matt Stryker in a 4-Way for the World Title.
4-26-03: ROH: Round Robin Challenge II: & Ace Steel beat Dan Maff & Monsta Mack.
5-31-03: ROH: Do or Die: & CM Punk beat Jay Briscoe & Mark Briscoe, Tony DeVito & HC Loc and Dixie & Izzy in a Scramble match.
6-14-03: ROH: Night of the Grudges: & CM Punk beat Raven & BJ Whitmer.
External links