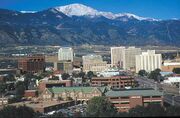 Colorado is a U.S. state that encompasses much of the Rocky Mountains as well as the northeastern portion of the Colorado Plateau and the western edge of the Great Plains. Colorado is part of the Western United States and the Mountain States.
The state was named for the Colorado River, which early Spanish explorers named the Rio Colorado for the red colored (Spanish: Colorado) silt the river carried from the mountains. On August 1, 1876, U.S. President Ulysses S. Grant signed a proclamation admitting Colorado as the 38th state. Colorado is nicknamed the "Centennial State" because it was admitted to the Union as the 38th state in 1876, the centennial year of the United States Declaration of Independence.
Cities
Arenas
Events
Promotions
Wrestlers
External Links
Ad blocker interference detected!
Wikia is a free-to-use site that makes money from advertising. We have a modified experience for viewers using ad blockers

Wikia is not accessible if you've made further modifications. Remove the custom ad blocker rule(s) and the page will load as expected.