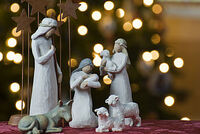 Christmas is an annual commemoration of the birth of Jesus Christ and a widely observed holiday, celebrated generally on December 25 by millions of people around the world. A feast central to the Christian liturgical year, it closes the Advent season and initiates the twelve days of Christmastide, which ends after the twelfth night. Christmas is a civil holiday in many of the world's nations, is celebrated by an increasing number of non-Christians, and is an integral part of the Christmas and holiday season.
In Wrestling
Similar to other holidays like Halloween, many wrestling promotions organize special holiday-themed shows, photo shoots, and merchandise around this holiday.
Gallery
Books
Movies
Ornaments
Jumpers
External links
Ad blocker interference detected!
Wikia is a free-to-use site that makes money from advertising. We have a modified experience for viewers using ad blockers

Wikia is not accessible if you've made further modifications. Remove the custom ad blocker rule(s) and the page will load as expected.