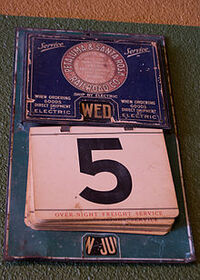 A calendar is a system of organizing days for social, religious, commercial or administrative purposes. This is done by giving names to periods of time, typically days, weeks, months, and years. A date is the designation of a single, specific day within such a system. Periods in a calendar (such as years and months) are usually, though not necessarily, synchronized with the cycle of the sun or the moon. Many civilizations and societies have devised a calendar, usually derived from other calendars on which they model their systems, suited to their particular needs.
In wrestling
Calendars, for many years, have been an important form of wrestling merchandise.
Wrestling calendars
See also
External links
Ad blocker interference detected!
Wikia is a free-to-use site that makes money from advertising. We have a modified experience for viewers using ad blockers

Wikia is not accessible if you've made further modifications. Remove the custom ad blocker rule(s) and the page will load as expected.