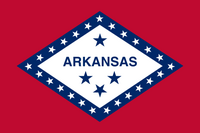 Arkansas is a state located in the southern region of the United States. Its name is an Algonquian name of the Quapaw Indians. Arkansas shares borders with six states (clockwise: N:Missouri; E: Tennessee, Mississippi; S: Louisiana; SW: Texas; W: Oklahoma), and its eastern border is largely defined by the Mississippi River. Its diverse geography ranges from the mountainous regions of the Ozarks and the Ouachita Mountains, which make up the U.S. Interior Highlands, to the eastern lowlands along the Mississippi River. The capital and most populous city is Little Rock, located in the central portion of the state.
Cities
Arenas
Events
Wrestlers
External Links
Ad blocker interference detected!
Wikia is a free-to-use site that makes money from advertising. We have a modified experience for viewers using ad blockers

Wikia is not accessible if you've made further modifications. Remove the custom ad blocker rule(s) and the page will load as expected.