Ad blocker interference detected!
Wikia is a free-to-use site that makes money from advertising. We have a modified experience for viewers using ad blockers

Wikia is not accessible if you've made further modifications. Remove the custom ad blocker rule(s) and the page will load as expected.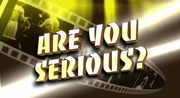 Are You Serious? was a web series on the video sharing website YouTube and is also available to watch on WWE.com. The series is presented by the Road Dogg and Josh Matthews and involved them viewing some of the worst videos WWE and WCW have ever released. They were regularly joined by "Puppet H" a puppet version of Triple H, who would regularly present one of his own clips which the presenters choose in a game. Each episode was uploaded on a Saturday or Sunday and is between 5 and 7 minutes long. As of January 27, 2013, 52 episodes have been uploaded.
Images
Episodes
| No. | Upload date | Length | Link |
| --- | --- | --- | --- |
| 1 | February 4, 2012 | 5:22 | Video on YouTube |
| 2 | February 10, 2012 | 5:46 | Video on YouTube |
| 3 | February 17, 2012 | 5:37 | Video on YouTube |
| 4 | February 24, 2012 | 5:43 | Video on YouTube |
| 5 | March 4, 2012 | 5:32 | Video on YouTube |
| 6 | March 11, 2012 | 5:36 | Video on YouTube |
| 7 | March 18, 2012 | 5:47 | Video on YouTube |
| 8 | March 25, 2012 | 6:00 | Video on YouTube |
| 9 | April 1, 2012 | 6:10 | Video on YouTube |
| 10 | April 8, 2012 | 6:04 | Video on YouTube |
| 11 | April 15, 2012 | 5:56 | Video on YouTube |
| 12 | April 22, 2012 | 5:42 | Video on YouTube |
| 13 | April 28, 2012 | 5:55 | Video on YouTube |
| 14 | May 6, 2012 | 5:58 | Video on YouTube |
| 15 | May 13, 2012 | 6:08 | Video on YouTube |
| 16 | May 20, 2012 | 6:10 | Video on YouTube |
| 17 | May 27, 2012 | 5:32 | Video on YouTube |
| 18 | June 3, 2012 | 6:10 | Video on YouTube |
| 19 | June 10, 2012 | 5:39 | Video on YouTube |
| 20 | June 17, 2012 | 6:03 | Video on YouTube |
| 21 | June 24, 2012 | 5:50 | Video on YouTube |
| 22 | July 1, 2012 | 5:59 | Video on YouTube |
| 23 | July 8, 2012 | 6:21 | Video on YouTube |
| 24 | July 15, 2012 | 5:48 | Video on YouTube |
| 25 | July 22, 2012 | 5:45 | Video on YouTube |
| 26 | July 29, 2012 | 5:52 | Video on YouTube |
| 27 | August 5, 2012 | 5:25 | Video on YouTube |
| 28 | August 12, 2012 | 6:10 | Video on YouTube |
| 29 | August 19, 2012 | 6:27 | Video on YouTube |
| 30 | August 26, 2012 | 5:39 | Video on YouTube |
| 31 | September 2, 2012 | 6:03 | Video on YouTube |
| 32 | September 9, 2012 | 5:19 | Video on YouTube |
| 33 | September 16, 2012 | 5:45 | Video on YouTube |
| 34 | September 24, 2012 | 5:37 | Video on YouTube |
| 35 | September 30, 2012 | 6:06 | Video on YouTube |
| 36 | October 7, 2012 | 6:15 | Video on YouTube |
| 37 | October 14, 2012 | 5:25 | Video on YouTube |
| 38 | October 21, 2012 | 7:10 | Video on YouTube |
| 39 | October 28, 2012 | 5:55 | Video on YouTube |
| 40 | November 4, 2012 | 5:40 | Video on YouTube |
| 41 | November 11, 2012 | 6:46 | Video on YouTube |
| 42 | November 18, 2012 | 6:20 | Video on YouTube |
| 43 | November 25, 2012 | 6:32 | Video on YouTube |
| 44 | December 2, 2012 | 5:49 | Video on YouTube |
| 45 | December 9, 2012 | 5:47 | Video on YouTube |
| 46 | December 16, 2012 | 5:34 | Video on YouTube |
| 47 | December 23, 2012 | 6:52 | Video on YouTube |
| 48 | December 30, 2012 | 6:08 | Video on YouTube |
| 49 | January 6, 2013 | 6:44 | Video on YouTube |
| 50 | January 13, 2013 | 6:09 | Video on YouTube |
| 51 | January 20, 2013 | 5:26 | Video on YouTube |
| 52 | January 27, 2013 | 5:56 | Video on YouTube |
External links