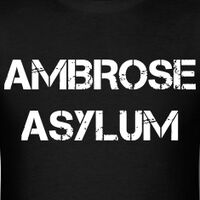 The Ambrose Asylum is a talk show/interview segment that features Dean Ambrose as the host. It began on the April 11th edition of Monday Night Raw when it replaced the The Highlight Reel as ordered by Shane McMahon.
List of guests
Ad blocker interference detected!
Wikia is a free-to-use site that makes money from advertising. We have a modified experience for viewers using ad blockers

Wikia is not accessible if you've made further modifications. Remove the custom ad blocker rule(s) and the page will load as expected.