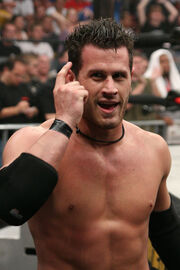 Note MCM=Motor City Machine guns
2004
Victory Road 2004 Hector Garza won a "gauntlet" match

Also in the match were: The Amazing Red, Mikey Batts, Jerrelle Clark, Jason Cross, D-Ray 3000, Sonjay, Dutt, Frankie Kazarian, Kazushi Miyamoto, Nosawa, L.A. Park, Psicosis, Puma, Chris Sabin, Michael Shane, Shark Boy, Alex Shelly, Sonny Siaki, Spanky, and Matt Sydal.
2005
2006
2007
Final Resolution 2007 Shelley def. Starr
Lockdown 2007 X Division Champion Chris Sabin beat Shark Boy, Shelley, Jay Lethal, & Sonjay Dutt in an "steel cage elimination" match.
Shelley pinned Shark Boy Sabin pinned Dutt Lethal pinned Shelley Sabin escaped the cage
2008
2009
External links