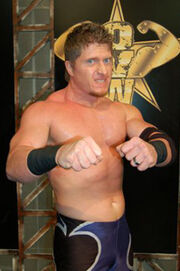 The following is a collection of events that Ace Steel has participated in.
Event History
10-24-98: NWA: 50th Anniversary: & Danny Dominion lost to Christopher Daniels & Kevin Quinn.
2-8-02: IWA MS: beat Dysfunction to win the IWA MS Light Heavyweight Title.
5-3-02: IWA MS: beat Vic Capri for his 2nd IWA MS Light Heavyweight Tite.
12-28-02: ROH: Final Battle: lost to Jay Briscoe.
3-22-03: ROH: Night Of Champions: & CM Punk lost to Raven & Colt Cabana.
4-26-03: ROH: Round Robin Challenge II: & Ace Steel beat Dan Maff & Monsta Mack.
1-10-04: ROH: Battle Lines Are Drawn: with CM Punk & Colt Cabana battled Christopher Daniels, BJ Whitmer & Dan Maff to a No Contest.
12-5-08: ROH: Wrestling At The Gateway: & Necro Butcher beat Jimmy Jacobs & Delirious.
1-31-09: ROH: Caged Collision: with Jay Briscoe, Roderick Strong, Brent Albright & Erick Stevens beat Davey Richards, Adam Pearce, Eddie Edwards, Tank Toland & Bobby Dempsey in a Cage match.
4-4-09: ROH: Take No Prisoners 2: lost to Colt Cabana.
Ad blocker interference detected!
Wikia is a free-to-use site that makes money from advertising. We have a modified experience for viewers using ad blockers

Wikia is not accessible if you've made further modifications. Remove the custom ad blocker rule(s) and the page will load as expected.