Ad blocker interference detected!
Wikia is a free-to-use site that makes money from advertising. We have a modified experience for viewers using ad blockers

Wikia is not accessible if you've made further modifications. Remove the custom ad blocker rule(s) and the page will load as expected.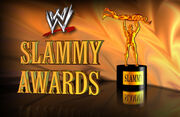 The 2009 Slammy Awards event took place as part of a 3-hour special of Monday Night Raw on December 14, 2009 Monday Night RAW results.
Awards Presentation
Superstar of the Year
This was contested in a tournament to decide between them.
Breakout Star of the Year
This award was presented by Theodore Long & Tiffany
Match of the Year
This award was presented by Triple H
RAW Guest Host of the Year
This award was presented by Vince McMahon

Ozzy & Sharon Osbourne
Bob Barker WINNER
Seth Green
Shaquille O'Neal
OM Moment of the Year
This award was presented by Abraham Washington, Tony Atlas & Big Dick Johnson
Extreme Moment of the Year
This award was presented by Carlito, Chris Masters & Eve Torres
Tag Team of the Year
This award was presented by R-Truth & Jillian Hall
Shocker of the Year
This award was presented by Santino Marella & Vickie Guerrero
Diva of the Year
WINNER:Maria