Ad blocker interference detected!
Wikia is a free-to-use site that makes money from advertising. We have a modified experience for viewers using ad blockers

Wikia is not accessible if you've made further modifications. Remove the custom ad blocker rule(s) and the page will load as expected.
Stub

This article is a

stub

, an article too short to provide more than rudimentary information about a subject. You can

help

Pro Wrestling Wiki by

expanding it

.

The 2006 PWI Top 500 Wrestlers is a list of the Top 500 wrestlers according to the magazine Pro Wrestling Illustrated.
1-50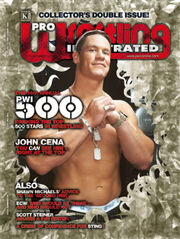 51-100
Bobby Lashley Keiji Mutoh James Storm Mephisto Kaz Hayashi CIMA Naomichi Marufuji Black Warrior The Undertaker Takeshi Rikio Austin Aries Hector Garza Roderick Strong John Bradshaw Layfield Tarzan Boy Masahiro Chono Colt Cabana Genichiro Tenryu Doug Williams Shocker Milano Collection AT Johnny Nitro Brother Devon Tokyo Magnum LA Park Brother Ray Minoru Suzuki Olimpico Ikuto Hidaka Brent Albright Minoru Fujita Negro Casas Toshiaki Kawada Mr. Aguila Takeshi Morishima Petey Williams Paul London Mitsuharu Misawa Halloween Matt Hardy Akira Taue Sabu Damian 666 Monty Brown Ultimo Dragon Maximo Takashi Sugiura Umaga Adam Pearce Masato Tanaka
101-150
Matt Sydal Kip James Texano Jr Genki Horiguchi BG James Dragon Kid Chris Sabin Shinjiro Ohtani Cibernetico Minoru Tanaka Fit Finlay Yuji Nagata Jack Evans Universo 2000 Akebono Elix Skipper Yoshihiro Tajiri Seth Skyfire Super Crazy Yoshinobu Kanemaru Gedo D-Lo Brown William Regal La Parka (II) TAKA Michinoku Kenny Doane Chris Hero Vampiro Razor Ramon Hard Gay Shinsuke Nakamura Giant Bernard Ron Killings La Mascara Nicky Nemeth Chet The Jett Chase Stevens Oriental Charlie Haas Juventud Guerrera Mike Knox Mikey Mondo Senshi/Low-Ki Andy Douglas The Great Khali Davey Richards Koji Kanemoto Johnny Jeter Brian Kendrick Sangre Azteca The Sandman
151-200
Scott Steiner Zorro Gregory Helms Manabu Nakanishi Nunzio Felino Dr. X Viscera Homicide Jado Elijah Burke Psicosis CW Anderson Eugene Dinsmore Bobby Roode Matt Striker Aaron Stevens Robbie McAllistair Konnan Jay Lethal Justin Credible Eric Young Nitro Mike Mizanin Tommy Dreamer Rory McAllistair Jody Fleisch Tony Mamaluke Sonjay Dutt Heavy Metal Rocky Romero Orlando Jordan Val Venis Al Snow Kikutaro Charly Manson Chavo Guerrero Jr Taiji Ishimori Misterioso II Kenzo Suzuki Trevor Murdoch Volador Jr Ares Tatsuhito Takaiwa Scorpio Jinsei Shinzaki Rob Conway Ryo Saito El Terrible Osamu Nishimura
201-250
Nick Mitchell Balls Mahoney Blue Panther Ken Kennedy Bull Buchanan Don Fuji Joey Mercury Dick Togo Hooligan Mikami Claudio Castagnoli Lizmark Jr Super Dragon Silver King Jonny Storm Gene Snitsky Kohei Suwama BJ Whitmer Chris Masters Mr. Niebla Brother Runt Kohei Sato Big Vito El Canek Shark Boy Electro Shock Sal Rinauro Kid Kash Brazo De Plata Ricky Marvin Jamie Noble Takao Omori Raven Roadkill Lance Cade Antifaz Del Norte Kudo El Dandy El Samurai Mascara Sagrada Masao Inoue Gordon XXX Hirooki Goto Virus Mohammad Yone Jimmy Yang Paul Birchall Alex Shelley Tamon Honda Super Delfin
251-300
Stevie Richards Sho Funaki Test Naruki Doi Ricky Reyes El Sagrado Takuma Sano Tatanka The Boogeyman Masaaki Mochizuki Jimmy Jacobs David Young Romeo Roselli Steve Corino Arik Cannon Mick Foley Yutaka Yoshie Danny Doring Arkangel De La Muerte Masato Yoshino Kevin Nash NOSAWA Chad Collyer Tiger Mask I Harry Smith Lance Hoyt Mazada A-1 Ace Steel Hombre Sin Nombre Scotty 2 Hotty Yoshinari Ogawa Chris Cage Machete Johnny Parisi Ryouji Sai Tank Toland Joey Ryan Mike Quackenbush Chad Toland Ruckus The Great Sasuke Shad Gaspar El Generico Delirious Matt Bentley AKIRA Simon Diamond Necro Butcher El Angel
301-350
Jake Gymini Sterling James Keenan Tony Kozina M-Dogg 20 Arch Kincaid Miyawaki Alebrije Jesse Gymini Kevin Matthews Derrick Neikirk Antonio Thomas Sylvan Grenier Eddie Colon Tyson Dux Octagon Cody Hawk Hallowicked Toru Owashi Jimmy Rave Tony Santarelli Milanito Collection AT Simon Dean Mike Taylor Scott Lost Intocable Shinjitsu Nohashi Mark Briscoe Chris Bosh Shane Storm Jay Briscoe Alan Stone Johnny Devine Lash LeRoux Excalibur Ryan Reeves Larry Sweeney Fuerza Guerrera Suwa Dice Domino B-Boy Fergal Devitt Kevin Steen Shannon Moore The Human Tornado Zumbido Julio Dinero Puma/TJ Perkins Prince Nana Ray Gordy Jigsaw
351-400
Mr. Mexico Shuji Kondo Cassidy Riley Bradley Jay Tigre Blanco Katsushi Takemura Icarus Mac Daddy Johnson Emil Sitochi Tony Rivera Naofumi Yamamoto Gran Akuma Tigre Metalico Scorpio Sky Spud Gran Hamada Niles Young Antonio Banks Kennichiro Arai Steve Douglas Joker Men's Teioh Quicksilver Josh Daniels Eddie Kingston Blue Demon Jr Jake Crist Mikey Batts Sonny Siaki Amigo Suzuki Rene Dupree Abismo Negro David Crist Jack Bull Skayde Eric Perez Maxime Boyer Chessman Freakin' Deacon Turbo Danny Gimondo Sabian Shane Matthews Pantera Shigeo Okumura Deuce Shade Jagged Matt Stryker Derek Frazier Ryuji Ito
401-450
Vries Kastelein SeXXXy Eddy Yoshiaki Yago Danny Daniels Nick Gage Scorpio Jr Travis Tomko Tasutoshi Goto Tracy Smothers Matt Morgan Norman Smiley Frankie Kazarian Billy Maverick Andre Lyonz Justice Pain Trent Acid Extreme Tiger Adam Flash John McChesney Bryan Logan Teddy Hart Conrad Kennedy III Ric Converse Dos Caras Bolen Riki Choshu Equinox Chaz Tengkwa Nick Berk Rodney Mack Darren Burridge Black Thunder Crossbones Francisco Ciatso Josh Abercrombie Joey Knight Freak Nasty Darin Corbin Xavier Crazy Boy Kahagas Ryan Cruz Troy Lords Andrew Dalton Eric Everlast Jon Moxley Andy Boy Simmonz Lance Steel Chasyn Rance
451-500
Shirley Doe Bruiser Robin Knightwing Frank Parker Nate Mattson Mike Kruel Quinn Magnum Sinn Mickey Gambino Jerelle Clark The Stro Marshall Gambino Pepper Parks Cheech Stronko Jason Static Preston Quinn Glenn Spectre Tony Givens Darin Childs Beau James Don Paysan Roughhouse O'Reilly Dennis Gregory Brian Ash Cloudy Billy Bart GQ Gallo Vito Thomaselli Shawn Cook Mikal Adryan Don Basher Sal Thomaselli Boomer Payne Johnny Graham Matt Riviera Larry Huntley Seth Shai Kevin Knight Horrowshow Masacara Purpura Brian Christopher Wataru Inoue Kamikaze Kid Robert Anthony Shawn Christopher Phil Davis Eddie Edwards Sean Davis Mike Paige
See Also
External links and references