Stub

This article is a

stub

, an article too short to provide more than rudimentary information about a subject. You can

help

Pro Wrestling Wiki by

expanding it

.

The 2004 PWI Top 500 Wrestlers is a list of the Top 500 wrestlers according to the magazine Pro Wrestling Illustrated.
1-50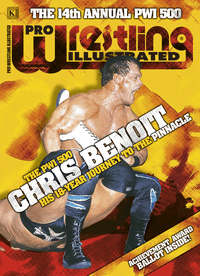 Chris Benoit Eddie Guerrero Triple H Kenta Kobashi Randy Orton Toshiaki Kawada John Cena AJ Styles Shawn Michaels Chris Jericho Hiroyoshi Tenzan Jeff Jarrett Kane El Hijo Del Santo John Bradshaw Leyfield Shelton Benjamin Chavo Guerrero Jr Ron Killings Hector Garza Batista Eugene Dinsmore Rey Mysterio Jr The Undertaker Booker T Christopher Daniels Bob Sapp Michael Shane Rob Van Dam Mr. Niebla Ric Flair Christian Chris Sabin Keiji Mutoh Samoa Joe Raven Kurt Angle Bubba Ray Dudley LA Park Matt Hardy Charlie Haas The Big Show Yoshihiro Tajiri D-Von Dudley Chris Harris Rob Conway Latin Lover Shinya Hashimoto Bill Goldberg Matt Morgan Frankie Kazarian
51-100
Spike Dudley Juventud Guerrera Jushin Thunder Liger Hardcore Holly Naomichi Marufuji Abyss Rhyno Hurricane Helms Edge Sylvan Grenier D'Lo Brown Billy Gunn Doug Basham James Storm Kid Kash Rico Constantino Danny Basham Shocker Steve Corino Johnny Jeter Nicho El Millionario Kensuke Sasaki Donovan Morgan CW Anderson Jamie Noble Tyson Tomko American Dragon Pat Kenney Michael Modest Luther Reigns Elix Skipper Paul London Spanky Tiger Mask IV Garrison Cade Mr. Aguila Shinjiro Ohtani Mordecai CM Punk Genichiro Tenryu Abismo Negro Billy Kidman Naoya Ogawa Ultimo Guerrero Rikishi Yuji Nagata Atlantis Rosey Val Venis Masato Tanaka
101-150
Monty Brown Perro Aguayo Jr Masahiro Chono Test A-Train Steven Richards Heat Rene Dupree Satoshi Kojima Kenzo Suzuki Nunzio Mark Jindrak Jerry Lynn Chuck Palumbo Black Warrior Low-Ki Johnny Stamboli Kaz Hayashi Chase Stevens Chavo Guerrero Sr Octagon Sonny Siaki Johnny Swinger Scotty Too Hotty Jun Akiyama Andy Douglas Blue Panther Sonjay Dutt Shannon Moore Mascara Sagrada Al Snow Yoshihiro Takayama Chris Cage Ultimo Dragon CIMA Mark Magnus Orlando Jordan Sho Funaki Koji Kanemoto Akio Tank Toland Maven Mitsuharu Misawa Negro Casas Sakoda Sabu BG James Matt Stryker Julio Dinero John Heidenreich
151-200
Shark Boy Simon Dean Black Tiger Chad Collyer Colt Cabana Joey Matthews Super Delfin Shawn Hernandez Rodney Mack Johnny Nitro Predator Dr. Wagner Jr Bobby Roode Konnan The Amazing Red Carly Colon Manabu Nakanishi Aaron Stevens Electro Shock Matt Cappotelli Doug Williams Dragon Kid Damien 666 Halloween Glen Gilberti Brent Albright TAKA Michinoku Petey Williams Ekmo Fatu Shane Douglas Eric Young Takehiro Murahama Johnny Devine Heavy Metal Chris Masters Kevin Northcutt New Jack Alebrije Rocky Romero Scoot Andrews The Great Sasuke Homicide Bison Smith Ricky Reyes Joel Maximo Ace Steel Jose Maximo BJ Whitmer Jimmy Rave Felino
201-250
Skayde Jonny Storm Ikuto Hidaka Dan Maff Tom Howard David Young Mike Shane Todd Shane Josh Daniels Jason Cross Osamu Nishimura Rey Mysterio Sr Tony Jones Jack Evans Tony Kozina Lex Lovett Tokyo Magnum B-Boy Nigel McGuinness Justin Credible Shane Ballard Dusty Rhodes Jr Shannon Ballard Mike Quackenbush Austin Aries Quiet Storm Bobby Quance Zach Gowen Sean Casey Dick Togo Milano Collection AT Jinsei Shinzaki M-Dogg 20 The Blue Meanie SUWA John Walters James Tighe Shawn Daivari Fujita Masada Josh Prohibition Danny Inferno Mike Kruel Onyx Jado Brad Bradley Danny Daniels YOSSINO Teddy Hart Billy Fives
251-300
Prince Nana Gedo Mike Sullivan Lamont Dean Jablonski Chris Hamrick Seth Skyfire Riki Choshu Jimmy Vegas Chad Wicks Alex Arion Harry Smith Frank Parker Sumo Fuji Cody Hawk Vinny Massaro Todd Sexton Jimmy Jacobs Fast Eddie Scorpio DeVito Iceberg Dallas Joe E Legend Gram Hamada Alex Shelley HC Loc Otto Schwanz Akira Taue Jacey North Jason Rumble Gabriel Slash Tom Brandi Rico Casanova Azreal Aaron Aguilera Kohei Sato Taru Ryan Boz Gran Apolo The Stro Biggie Biggs Danny Doring Zebra Kid Gran Naniwa Tank Vance Nevada Slyk Wagner Brown Scotty Mac
301-350
Gene Snisky Savio Vega TJ Wilson Rod Strong Jerrelle Clark Dennis Gregory Juggernaut Slash Venom Mike Barton D-Ray 3000 Evan Karagias Altar Boy Luke Tyson Dux Jorge Estrada Steve Mack Afa Jr Jason The Legend Boomer Payne Sasiki Dusty Wolfe Sed Strong Blade Boudroux Striker Buff Bagwell Firestorm Adam Windsor Nate Webb Mike Mondo Johnny Heartbreaker Lash LeRoux Chris Candido Da Beast Murder 1 Jimmy Snuka Jr Naphatali Rob Eckos Marc Ash Quinn Magnum Steve Madison Chris Hero Mike Bell Rainman Arch Kincaid Frank Murdoch Ray Gordy Mark Bell Brandon K Justice Devon Storm Glen Osbourne
351-400
Sinn Standing Thunder Rapid Fire Maldonado Arik Cannon Rod Steel Mike Taylor Reno Mahoney Mana Eric Priest Seth Shai Jack Xavier Rob Begley Brock Singleton John Rambo Robin Knightwing Gillberg Buff-E Mace Mendoza Super Hentai Mike The Miz Joey Knight KC Thunder Ace Darling T Rantula Delirious Japanese Pool Boy Mac Daddy Johnson Jardi Franz TJ Powers Nikita Allanov Cheetah Masta Bruce Steels Vito Thomaselli Antonio Thomas Caprice Coleman Steve DeMarco Johnny The Body Dropkick Murphy Fred Sampson Rockin Rebel Chasyn Rance Eddie Brown Johnny Ova Sterling James Keenan Scott Savage Mr. Ooh La La Matt Sydal George South Sr Bart Blaxon
401-450
Shawn Donovan Bouncer Sal Thomaselli Scottie Gash Jeremy V JC Bailey Frankie Capone CJ O'Doyle Scott Phoenix KC Blade Jacob Ladder J Rocc Major Hardway EC Negro Sal Rinauro Oman Tortuga Eddie Atlas Roman Tenderfoot Glenn Spectre Robert Thompson Billy Bax Greg Spitz Hacker Russell Simpson Johnny Graham Bob Evans Sain Guapo Diablo Santiago JJ Perez Don Basher Bio Hazard Rory Fox Spiro Supreme Lee Great Drago Rob McBride Jeff Starr TJ Dalton Eric Xtasy Flex Fenom The Bruiser Magic Johnny Maxx Kevin Knight John Curse Jeromy Sage Suba Robbie Ellis
451-500
Apollo Khan Major DeBeers LeGrande Mozart Fontaine Don Brodie Slim J Hallowicked Ruffhouse Joseph Rodd Dell Ram Karazy K Billy Black Vince Vicallo Bomberry JT Stahr Shadow Jackson Gutter Mega Tejas Eddie Kingston Jack Thriller El Tornado Darin Childs Scab Xero Dave Swift J Busta Enigma Snatch Haggis Tommy Suede Bull Dog Raines Brandon P Terry Allen Billy Bart Li'l Cholo Quinten Lee Bruiser Graham Forsaken Seth Delay Conrad Kennedy III Shirley Doe Danger Shane Shadows Vennis DeMarco Gran Akuma JT Lightning Mike Dell Mister Zero Rod Steele
See also
External links and references
Ad blocker interference detected!
Wikia is a free-to-use site that makes money from advertising. We have a modified experience for viewers using ad blockers

Wikia is not accessible if you've made further modifications. Remove the custom ad blocker rule(s) and the page will load as expected.