Stub

This article is a

stub

, an article too short to provide more than rudimentary information about a subject. You can

help

Pro Wrestling Wiki by

expanding it

.

The 2000 PWI Top 500 Wrestlers is a list of the Top 500 wrestlers according to the magazine Pro Wrestling Illustrated.
1-50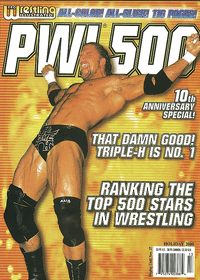 Triple H The Rock Chris Benoit Kenta Kobashi Jeff Jarrett Justin Credible Mike Awesome Jushin Thunder Liger Chris Jericho Kensuke Sasaki Vader Scott Steiner Kurt Angle Mitsuharu Misawa El Hijo del Santo The Big Show Diamond Dallas Page Sid Vicious Rhino Eddie Guerrero Masato Tanaka Keiji Mutoh Yoshihiro Tajiri Rob Van Dam Dr Wagner Jr Sting Rikishi Phatu Tommy Dreamer Manabu Nakanishi Jeff Hardy Vampiro Toshiaki Kawada Scotty 2 Hotty Kane Shocker Crash Holly Yuji Nagata Sabu Super Crazy Lance Storm Bob Holly Jun Akiyama Ric Flair Shima Nobunaga Matt Hardy Black Warrior The Great Sasuke Dean Malenko Atlantis Kevin Nash
51-100
Edge Tatsuhito Takaiwa Buh-Buh Ray Dudley Jerry Lynn Tazz Masa Chono Christian Shane Douglas Hulk Hogan D-Von Dudley Booker T Raven Perry Saturn Universo Dos Mil X-Pac Takao Omori Tiger Mask IV Kid Kash The Godfather Blue Panther H(ayabusa) Billy Kidman Cibernetico Val Venis Villano III Christopher Daniels Shinjiro Ohtani Road Dogg Grandmaster Sexay Essa Rios Ultimo Guerrero Lex Luger Naoya Ogawa TAKA Michinoku Buff Bagwell The Sandman Bradshaw Super Delfin Tank Abbott Genichiro Tenryu Big Vito The Artist Faarooq Akira Taue Rayo De Jalisco Jr The Big Boss Man Al Snow Lt Loco Balls Mahoney Hiroyoshi Tenzan
101-150
Rick Steiner Negro Casas Test Koji Kanemoto D'Lo Brown Chyna Norman Smiley Maunukea Mossman Little Guido Maritato Satoshi Kojima Corporal Cajun Albert New Jack Rey Bucanero Kendo Ka Shin Michael Modest Kaz Hayashi Bam Bam Bigelow Kodo Fuyuki Psicosis Steve Blackman Roadkill Evan Karagias El Felino Shinya Hashimoto The Wall Crowbar Gran Hamada Chris Candido Reckless Youth La Parka Oriental Yoshinari Ogawa Don Harris Sho Funaki Danny Doring Disco Inferno El Samurai Bull Buchanan Shannon Moore Ron Harris Julio Dinero Jinsei Shinzaki Shane Helms Abismo Negro Johnny Ace Octagon Christian York Juventud Guerrera Wolf Hawkfield
151-200
Fuerza Guerrera Steve Bradley Stevie Ray Joey Matthews Steve Corino Mickey Segura Hiroshi Hase CW Anderson Silver King Mike Quackenbush Shawn Stasiak Nova Shark Boy General Rection Terry Funk Simon Diamond Jado Dick Togo Masao Orihara Jerry Lawler Gedo K-Krush Gran Naniwa Ernest Miller Johnny Smith Joey Abs Atsushi Onita Brian Adams Charly Manson Gillberg Mosco De La Merced Glen Osbourne Mens Teioh Meng Antifaz Del Norte Flash Flanagan Masato Yakushiji Dave "Fit" Finlay Don Montoya Angel Apolo Dantes The Blue Boy Mr Niebla Naohiro Hoshikawa Mikey Whipwreck Johnny The Bull Scorpio Jr Jimmy Cicero Emilio Charles Jr Chris Chetti
201-250
Jamie Howard Dr Cerebro Scoot Andrews Adam Pearce Mark Henry Gary Steele Hacksaw Jim Duggan Joe E. Legend El Dandy Dusty Rhodes Major Stash Mike Rapada Brian Knobbs Tom Brandi Steven Richards Zumbido Gangrel Nick Dinsmore The Barbarian Hector Garza Mideon Steven Regal Chad Collyer David Flair Steven Dunn King Kong Bundy Shane Eden Axl Rotten Rodney Tarzan Boy Mike Barton Trailer Park Trash Pete Gas Lenny Lane Ace Darling Chaz Pierre-Carl Oulette Jason Lee Stan Hansen Chilly Willy Tracy Smothers Lou Marconi Reno Riggins Vic Capri Bryan Clark Kronus Satánico Rico Constantino Tony Kozina Pierroth Jr
251-300
Viscera Beau James Ace Steel Frank Staletto Doug Gilbert Horace Hogan Tony Mamaluke DeVito Headbanger Thrasher Robbie D Jet Jaguar Danny Dominion Mike Rotundo JR Ryder Pimpinella Escarlotta The Inferno Kid Erich Sbraccia Tony Anthony BJ Payne Michelle Starr KC Thunder Olimpico Major DeBeers Jonnie Stewart Mark Shrader Twiggy Ramirez Rob Conway Corporal Punishment Bill Wiles Andre Baker Dory Funk Jr Damaja Marty Jannetty Wolfie D Nygma Jerry Flynn Jesus Cristobal Jack Dupp Beau Dupp Scott D'Amore Scotty Anton Knuckles Nelson The Maestro Colonel Payne Maniaco Silky Boom Boom Lodi Cueball Carmichael Cham Pain Boyce LeGrande
301-350
Damien Steele Frenchy Riviera Frank Parker Iceman Thunder Lord Zoltan Vinny Massaro Roger Anderson Air Paris Scotty Zappa Robert Thompson John Rambo Boris Dragoff Tony Jones Low-Ki Big Dick Dudley Donovan Morgan Blade Boudreaux Johnny Swinger Mike Shane Rick Deezel Todd Shane Quinn Magnum Rob McBride Jeff Peterson Duke Droese T. Rantula JJ Johnston Hack Myers Stan Lee Shorty Smalls El Fuego Scott Bishop Ed Golden Ty Street Jayson Reign Dean Champion Mr. Ooh La La Prodigy Piranah Charlie Haas Bart Sawyer Johnny Moss Mike Anthony Russ Haas Skull Ganz Kevin Knight Harley Lewis Mark Ash Steve Boz
351-400
Bruiser Bennett Ian Rotten Ralph Mosca Jon Ryan Ricky Harrison Rik Ratchet Golem The Giant Trent Acid Demolition Ax Natrone Steele Cheetah Master The Bruiser Brian Logan Race Steele Skyfire Frank Murdoch Ronnie Vegas Vince Goodnite Greg Valentine 2-Dope Ty Dalton Steve Southern Nick Mondo Sebastian Kane Major Havoc Born Again Brawler Rico Casanova Otis Apollo The Mercenary Sydeswype Johnny Graham Shane Hooker Mark Mest Masked Maniac Iron Cross Tommy Cairo Dream Killer The Persian Prince George Steele Shawn Christopher Boogie Woogie Brown Glen Kulka Marc The Grizzly Al Savage Jeff Victory Jimmy Snuka Sr Johnny Kashmere Cody Hawk Mike Sullivan Ladies' Choice
401-450
Curtis Slammdawg Dylan Night The Scorpion Brian Anthony Hardcore Comini Indiana Kidd Jr Tony Golden David Young Jimmie Lee Gutterboy Chip Fairway Don Basher Morgus The Maniac Jay Jaillet Wolverine Jon Dahmer Big Slam Larry Destiny Danger Boy Alfredo Juggernaut Adam Firestorm Dino Bambino Brian Day Crusher Hansen Dino Devine J-Rocc Kid Collins Brian Rescue Rich Myers Billy Reil Bobby Clancy Hellraiser Blood Cory K Danger Michael Firehouse Don Carson The Intimidator Joe Rules Rob Carlin Jay Pumper Hellraiser Gutts Corporal Robinson Adam Flash Earl The Pearl Jimmy Snuka Jr Adrian Adonis Rick Silver Torch Brian Costello Dr Feelgood
451-500
Jackie Anderson Paul Vault Romeo Bliss Franky The Mobster Mr Excellent Merc The Cruiser Viper AJ Styles Diablos Macabre Shane Shadows Primo Canera III Johnny Greco Jon Rocker Jason Sensation Danny Rose Geza Kalman Billy Joe Eaton Colonel Corruption Maxx Crimson Rob Noxious Horace The Psychopath Rob Ramer Mael Billy Bart Mohammed Kane Switchblade Jackal The Cremator Big Sexxy Bubba Troy Mest Gemini Jake Damien Dorty Reid Ryan Wing Ric Gunner Kyle Storm Ron Sutherland Eddie Valentine Chainz Chrome Anthony McMurphy Guy Williams Rick Michaels Vance Vain Jimmy Z JJ Perez Primetime Terry King Joe Kane The California Kid
See Also
External links and references
Ad blocker interference detected!
Wikia is a free-to-use site that makes money from advertising. We have a modified experience for viewers using ad blockers

Wikia is not accessible if you've made further modifications. Remove the custom ad blocker rule(s) and the page will load as expected.