Stub

This article is a

stub

, an article too short to provide more than rudimentary information about a subject. You can

help

Pro Wrestling Wiki by

expanding it

.

The 1998 PWI Top 500 Wrestlers is a list of the Top 500 wrestlers according to the magazine Pro Wrestling Illustrated.
1-50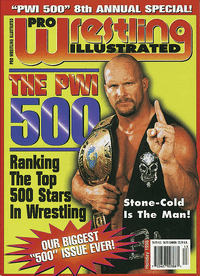 Steve Austin Bill Goldberg Mitsuharu Misawa Diamond Dallas Page The Undertaker Kenta Kobashi Booker T Ken Shamrock Jushin Liger Chris Jericho Rocky Maivia Sting Tatsumi Fujinami Rob Van Dam Owen Hart Randy Savage Toshiaki Kawada El Hijo Del Santo Chris Benoit Ultimo Dragon Kane TAKA Michinoku Kensuke Sasaki Hunter Hearst Helmsley Juventud Guerrera Mick Foley Jun Akiyama Eddy Guerrero Lex Luger Shane Douglas The Giant Koji Kanemoto Sabu Negro Casas Dean Malenko Taz La Parka Hayabusa Kevin Nash Bret Hart Psicosis Fit Finlay Jeff Jarrett Dan Severn Chris Candido Masahiro Chono Dr Wagner Jr Bam Bam Bigelow Shawn Michaels Reckless Youth
51-100
Akira Taue Shinya Hashimoto Hollywood Hogan Marc Mero Ric Flair Blue Panther Scott Hall Keiji Mutoh Perry Saturn Terry Funk Raven Billy Gunn Hiroyoshi Tenzan Chavo Guerrero Jr Vader Rick Steiner Edge Super Delfin The Great Sasuke Al Snow El Felino Dustin Runnels Jesse James Buh Buh Ray Dudley Jerry Estrada Shinjiro Ohtani Faarooq Lance Storm Genichiro Tenryu Christian Cage Octagon Animal Yugi Nagata Papi Chulo Justin Credible Brian Christopher Disco Inferno Osamu Nishimura Stan Hansen Super Calo Hawk Scott Steiner Atlantis 2 Cold Scorpio Masato Tanaka The Sandman Curt Hennig Devon Storm Konnan Tommy Dreamer
101-150
Silver King Bradshaw Scott Norton Kendo Ka Shin Val Venis Johnny Ace Rey Mysterio Jr Kanyon Steve Blackman Savio Vega D-Von Dudley Villano IV El Samurai Jerry Lynn Maunukea Mossman Steve Williams Prince Iaukea Lance Diamond Brian Lee D-Lo Brown Spike Dudley Flash Flanagan Chris Adams Michael Wall Street Manabu Nakanshi Headbanger Mosh Venum Black Glen Osborne Eight-Ball Satoshi Kojima Dick Togo Billy Kidman X-Pac Tracy Smothers Heavy Metal Jerry Lawler Big Titan Tatsuhito Takaiwa Axl Rotten Tiger Mask IV Davey Boy Smith Roddy Piper Scott Taylor Headbanger Thrasher Skull Jinsei Shinzaki Julio Sanchez Miguel Perez Jr Wolfie D Barry Windham
151-200
NWO Sting Bart Gunn Hiroshi Hase New Jack Yoshihiro Tajiri Ace Darling Super Crazy Ernest Miller Mens Teioh Kaz Hayashi Mr Niebla Mahoney Hugh Morrus Bob Holly Jim Neidhart Gary Albright John Kronus Hector Garza Doug Furnas Alex Wright Fuerza Guerrera Shoichi Funaki Van Hammer Buff Bagwell Chris Chetti The Barbarian Mark Canterbury Nobuhiku Takada Darren Drozdov Doug Williams Gran Hamada Tom Brandi Emilio Charles Jr Glacier Junji Hirata Rage Abdullah The Butcher Steven Regal Reno Riggins Steve McMichael Mark Henry Kurrgan Rick Martel Jimmy Cicero Kaos Rick Morton Rocco Rock Gran Naniwa Vampiro Canadiense Big Dick Dudley
201-250
Yugi Yasuraoka Shawn Stasiak Stevie Ray Abismo Negro Jonny Smith Blue Demon Jr Doug Gilbert Matt Hardy Kama Marty Jannetty Jim Powers Naohiro Hoshikawa Lou Marconi El Dandy Litle Guido The Blue Meanie Carl Oulette Super Parka Reese Dennis Knight Johnny Grunge W*NG Kanemura Barry Darsow Pantera Takashi Izuka Ray Gonzales Meng Brian Adams Apolo Dantes Sid Vicious JC Ice Dory Funk Jr Scotty Riggs King Kong Bundy Jacques Rougeau Frank Staletto Streak Mosco De La Merced Jeff Hardy Vincent Luxdor Mikey Whipwreck Tony Anthony Pentagon Chicky Starr Masato Yakushi Mr Wrestling III Scott Putski Perro Aguayo Jr Mike Quackenbush
251-300
George South Rockin Rico Colorado Kid Steven Dunn Ahmed Jonhson Black Warrior Invader II Italian Stallion Don Montoya Bobby Duncum Jr Villano V Buddy Landel Erich Sbraccia Mike Enos Discovery Lord Zoltan Carlos Colon Shocker Giant Baba Greg Valentine Bill Dundee Bobby Eaton El Salsero Brian Knobs Super Boy Mark Schrader KC Thunder Lizmark Jr Eddie Golden Chris Chavis Rick Justice Damian Beau James Dave Taylor Erin O'Grady Tiger Ali Singh Perro Agayo Jr Brad Armstrong Dutch Mantel Universo Dos Mil Major DeBeers Twiggy Ramirez Dino Scarlo Gary Steele Scott D'Amore Ray Odyssey Jimmy Snuka T. Rantula Herbert Gonzalez Super Nova
301-350
George Steele Frank Parker Terry Golden Pirata Morgan Thrillbilly Vic Grimes Chris Powers Robert Gibson Justin Richards Ian Rotten Mustafa Saed Kenny Arden Invader III Boris Dragoff Headhunter I Tully Blanchard Master Mayhem Venom Corporal Punishment Tiger Khan Frenchy Riviera Headhunter II Thunder Demolition Ax Sgt Craig Pittman Rick Deezel Pit Bull II Stan Lee Michael Modest Jake Roberts Chris Stevenson Iceman Tommy Rich Tony Rumble Andre Baker Mabel The Inferno Kid Johnny Swinger Jeff Anderson Tito Santana Scoot Andrews Vic Steamboat Steve Corino Stevie Richards The Honky Tonk Man JT Coleminer Renegade JB Destiny Mr Ooh La La Tony Devito
351-400
Hacksaw Jim Duggan Christian York Tre Johnny Raynor Roger Anderson Crusher Cline Cueball Carmichael Madman Pondo Dr Dan Pit Bull I Colonel Payne Robert Thompson Woody Woodchuk Tornado Bob Steele Andre Borges Golem The Giant DC Queen Rob McBride John Rambo Dave Pantera Bruiser Bennett Chris Steelheart Boogie Woogie Brown Daniel Vogues Johnny Handsome Jay Smooth Syl The Sadist Ronnie Vegas Brickhouse Brown Bushwhacker Butch Adam Pearce Timber The Lumberjack Joey Matthews Atlas Rivera Kevin Northcutt Brian Anthony Chris Michaels Matador Steve Southern The Hollywood Kid JR Ryder Humongous CW Anderson Primo Carnera III Brian Danzig Tony Golden BC Bushwhacker Luke Wolverine
401-450
Prof Egon Ecton Mark The Grizzly Alexis Machine Alexander the Magnificent Johnny Lightning Danny Christian Major Havoc Jhad Hussein John Rock Alfredo Travieso Don Carson JT Lightning Kuame Kamoze Rasta Savage JP Hogg Boyce Legrande JB Jammer 911 Frankie The Mobster Vinny Massaro Joe Rules Rex King The Iron Sheik Cham-pain Jamie Jackson Gary Royal Mad Dog Johnson Pete Lothario Adrian Lynch Paul Atlas The Giant Warrior Sebastian Kane Doug Flexx Terik The Great Rikki Nelson Donovan Morgan Byron Walker Jimi V Chris Krueger Keven Kirby Mr Excellent Brick Bronsky Maxx Justice Dave Renegade Black Eagle Don Basher Otto Schwanz Shane Shadows Richie Santiago Jack Stud
451-500
Eight-ball Jones Robert Roma Nightbreed Bob Starr Ratboy Jeff Loving Terri Middoux Bam Bam Coalson Scorpion Indiana Kidd Jr Jackie Anderson Tony Jones Brian Fury Ecwa Viper Calavera Cortez Slicky Boy Pete Rokk Big Slam Billy Bart Crazy Joe Rob Noxious Morgus The Maniac Wild Child Tombstone Raiden Larry Destiny Chris Cannon Romeo Bliss Bobby Sechrist Prince of Africa Doug Deeds Mohammed Kane Kevin Knight Kid USA Toad Scott Sterling JL Storm Brian Costello Paul Lloyd Bob Keller John Diamond Steve Podunavac Ron Starr Ty Dalton Rockin' Randy Matthew Master III Mad Dog O'Malley Accw Viper Ralph Mosca Chip Fairway
See also
External links and references
Ad blocker interference detected!
Wikia is a free-to-use site that makes money from advertising. We have a modified experience for viewers using ad blockers

Wikia is not accessible if you've made further modifications. Remove the custom ad blocker rule(s) and the page will load as expected.