Stub

This article is a

stub

, an article too short to provide more than rudimentary information about a subject. You can

help

Pro Wrestling Wiki by

expanding it

.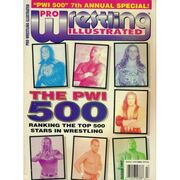 The 19997 PWI Top 500 Wrestlers is a list of the Top 500 wrestlers according to the magazine Pro Wrestling Illustrated.
1-50
Dean Malenko

Mitshuaru Misawa Steve Austin Diamond Dallas Page Lex Luger The Undertaker Shinya Hashimoto The Giant Jushin Liger Chris Benoit Taz Ultimo Dragon Kevin Nash Toshiaki Kawada Kenta Kobashi Owen Hart Jeff Jarrett Shawn Michaels Randy Savage Bret Hart Syxx British Bulldog The Great Sasuke Eddie Guerrero Scott Hall Chris Jericho Rick Steiner Masahiro Chono Rey Mysterio Scott Steiner Triple H Rob Van Dam Akira Taue Sabu Ric Flair Kensuke Sasaki Keiji Mutoh Ken Shamrock Raven Juventud Guerrera Goldust Shane Douglas Nobuhiko Takada Volk Han Faarooq Vader Negro Casas Tommy Dreamer Jerry Lawler Psycho Sid
51-100
Mankind Psicosis Ahmed Johnson Roddy Piper Hulk Hogan Steele Steve Williams Riki Choshu Brian Christopher Terry Funk La Parka Stan Hansen Scott Norton Savio Vega El Hijo Del Santo Stevie Richards Perro Aguayo Sr Genchiro Tenryu The Sandman Felino Chris Candido Kiyoshi Tamura John Kronus Satanico Gary Albright Pit Bull #2 Johnny Ace Super Calo Jun Akiyama Steven Regal Tatsumi Fujinami Dan Severn El Samurai Booker T Atlantis Dr Wagner Jr El Canek Koji Kanemoto Marcus Bagwell Silver King Shinjiro Ohtani Kazuo Yamazaki Stevie Ray Hector Garza Meng Hiroyoshi Tenzan Abdullah the Butcher Latin Lover The Patriot Konnan
101-150
New Jack Kevin Sullivan Rocky Maivia Headbanger Mosh Junji Hirata Brian Pillman JC Ice Mascara Ano Dos Mil Cibernetico Headbanger Thrasher Satoshi Kojima Hawk Disco Inferno Tracy Smothers Brian Lee Johnny Smith Rayo De Jalisco Jr Wolfie D Prince Iaukea Devon Storm Bubba Ray Dudley Perry Saturn Salvatore Sincere Doug Gilbert Ace Darling Bam Bam Bigelow Alex Wright Wrath Bart Gunn The Barbarian Henry Godwinn Lance Storm Flash Funk Bob Holly Animal Pierroth Jr Crush Doug Furnas Chavo Guerrero Jr Leif Cassidy Lizmark Jr Phil LaFon Phineas Godwinn D-Lo Brown Villano IV Glacier Barry Windham Billy Gunn Rick Morton Scotty Riggs
151-200
Brian Knobbs Reckless Youth Jesse James Marty Jannetty Hugh Morris Kama Mustafa Johnny Grunge Jerry Sags Jim Neidhart PJ Walker Scott Taylor Pit Bull #1 Heavy Metal Yuji Nagata Louie Spicolli Rocco Rock El Dandy Axl Rotten Miguel Perez Jr Cheetah Master Octagon Dick Togo Blackjack Bradshaw Mortis The New Diesel Lance Diamond D-Von Dudley Jake Roberts David Taylor Super Delfin Ian Rotten Glen Osbourne Scott Putski Jacques Rougeau Mustafa Saed Tadashi Iizuka Dutch Mantell Bubba Rogers WING Kanemura Flash Flanagan Blue Panther Fuerza Guerrera Carl Oulette Masato Tanaka King Kong Bundy Hayabusa Antonio Inoki Dory Funk Jr Jinsei Shinzaki Tito Santana
201-250
Mikey Whipwreck Billy Kidman Mike Samples Tommy Rich El Gran Hamada Julio Sanchez Giant Baba Mike Enos Vincent M. Wallstreet Bunkhouse Buck Carlos Colon Balls Mahoney Jim Powers Bobby Eaton Vic Steamboat Tony Anthony Billy Travis Tatsuhito Takaiwa Damien Marc Mero Men's Teioh Chris Chavis Tommy Cairo Villano IV Shiryu Lord Zoltan Halloween T. Rantula TAKA Michinoku Buddy Landel Little Guido Lou Marconi The Blue Meanie Eddie Golden Scott D'Amore Tony Atlas La Fierra Rage Ice Train Italian Stallion Bill Dundee Ray Odyssey Super Nova Joe E Legend Chaos The Colorado Kid George South The Inferno Kid Perro Aguayo Jr
251-300
Frank Stalletto Typhoon Ron Harris Sexton Hardcastle Cien Caras Greg Valentine Mr. Hughes Don Harris Vance Nevada Spellbinder Sgt Craig Pittman Robert Gibson Dos Caras Terry Golden Steven Dunn Jimmy Snuka Johnny Graham Christian Cage Kenny Arden Paul Diamond Vampiro Canadiense Don Montoya Ric Titan Tiger Mask IV Demolition Ax Gran Naniwa Spike Dudley Yuji Yasurika Big Dick Dudley Yoshihiro Tajiri Chris Chetti Madman Pondo Twiggy Ramirez Masato Yakushiji Reggie B Fine Headhunter I Jerry Estrada Brad Armstrong Keith Arden Adrian Hall Justin St John Bobby Duncum Jr Scotty McKeever Mascara Sagrada The Renegade Headhunter II Jimmy Cicero Scufflin' Hillbilly JT Smith Mabel
301-350
Gorgeous George III Knuckles Nelson Dusty Wolfe Rock Stevens Marc Schrader David Jericho Iceman Beau James Rick Justice Johnny Swinger The Sultan Otis Apollo Major DeBeers Bobby Clancy Marc Ash Jim Duggan Billy Briggs Timber the Lumberjack Primo Carnera III Bobby Blaze Tim Blaze Tony DiVito Ben Jordan Major Havoc Flaming Youth Roger Anderson Corporal Punishment Rob McBride Ox Harley Mikki Free Rick Deezel Johnny Paradise Ricky Rockett Chris Stephenson Tony Rumble KC Thunder Terry Austin Golem the Giant Kevin Jones Ricky Regal Rick Link Pink Assassin Killer Kanareck Rockin Rico Chris Powers Frank Parker Armageddon Steve Corino Colonel Payne Mike Quackenbush
351-400
Chad Hart Master Mayhem Boris Dragoff Brick Bronsky Madd Maxxine Cueball Carmichael Crusher Kine Gino Caruso Ravishing Ronny Jeff Anderson Boogie Woogie Brown Steve Nealy Rick Martel Bushwhacker Luke Brimstone Shocker Bruce Hart Mr Excellent Yar Bushwhacker Butch Bull Pain Brian Anthony Derek Domino Ernest Miller Johnny Handsome DZ Gillespie Wolf Steve Flynn Metal Maniac JB Destiny Paul Lauria The War Machine Chris Michaels Profesor Maxwell Thomas Rodman Brian Danzig John Rambo 911 American Kickboxer Chip Stetson Viper Countryboy Chris Sebastian Kane Mark Mest Terrick the Great Mr Ooh La La Brian Logan Bruiser Bennett Rhino Richards Devlin Blanchard Jihad Hussein
401-450
CW Anderson Alexis Machine Humongous Troy Mest DC Queen Agressor Rage Pat Friday Don Basher Tyren Don Carson Maverick Chris Big Daddy Adams Sheriff Steele Freedom Fighter Aggressor Fury Brian Fury Dave Patera Billy Bart Maverick Buck Robert Roma Sweet Dreams Jimi V Tower of Doom Lord Cult Joey Matthews Jack Spade Cham-Pain Johnny Reb Syl the Sadist Mike Myers Iron Sheik Marc the Grizzly Al Savage Tiger Kahn Surge Ronnie Vegas Gary Royal Chris Starr Christian York Professor Egon Ecton Morgus the Maniac JT Atlas Brian Bruise Wildcat Jamie Jackson Steve Southern Eddie Brown Venom Rikki Rhodes Kevin Kirby Harley Lewis
451-500
Falcon Coperis Canadian Destroyer The Dangerman Tex Monroe Johnny Dollar Blaze Rick Matrix Cody Gunn Shane Cortez Yvan P St-Dennis Pat Shamrock Rocky Jones Gator Breyer Wellington Bolo Cruiser Lewis Race Richards Major Agony Doug Flex Willie Clay Sr Rollin' Hard Steve Hart Original Renegade Wild Child Jack Stud Kodiak Bear The Hun Jimmy Kane Section 8 Son of Satan II Death Wish The Navajo Kid Paul Atlas Supreme Tech 9 Wichita Willie Son of Satan I Superkey I Larry Destiny JP Hogg Jimmy D Ranged Shane Shadows Big E Sleaze Dr Hurtz The Shadow Seminole Warrior Indiana Kidd Jr Wayne Woo Desperado Joe Rules
See also
External links and references
Ad blocker interference detected!
Wikia is a free-to-use site that makes money from advertising. We have a modified experience for viewers using ad blockers

Wikia is not accessible if you've made further modifications. Remove the custom ad blocker rule(s) and the page will load as expected.