Stub

This article is a

stub

, an article too short to provide more than rudimentary information about a subject. You can

help

Pro Wrestling Wiki by

expanding it

.

1-50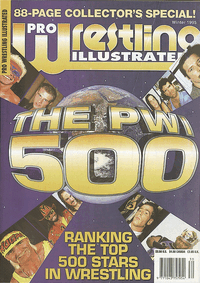 Diesel Shawn Michaels Sting Bret Hart Sabu Hulk Hogan Big Van Vader Randy Savage Razor Ramon Mitsuharu Misawa Jeff Jarrett Owen Hart The Great Muta The Undertaker Scott Steiner Antonio Inoki Eddy Guerrero Rey Mysterio Jr Rick Steiner Ric Flair Dean Malenko Jerry Lawler Lex Luger Arn Anderson Road Warrior Hawk Tracy Smothers Nobuhiko Takada Shane Douglas The 1-2-3 Kid Bam Bam Bigelow Cactus Jack Yokozuna 2 Cold Scorpio Sid Vicious Dan Severn Lord Steven Regal Tony Anthony Konnan Davey Boy Smith Koji Kanemoto Tatanka Chris Candido Steve Austin Kensuke Sasaki Tommy Dreamer Chris Benoit Adam Bomb Hakushi Mabel Paul Orndorff
51-100
Tito Santana Hiroshi Hase Taz Alex Wright Bob Backlund Al Snow Johnny B Badd Brian Christopher Toshiaki Kawada The Sandman Brian Pillman Dustin Rhodes Savio Vega Kenta Kobashi Kama Earl Robert Eaton Scott Putski The Patriot Stan Hansen Terry Funk Abdullah the Butcher Buddy Landel Doug Gilbert Gary Albright Brutus Beefcake Bob Holly Jimmy Del Ray Billy Jack Haynes Jean Pierre Lafitte Waylon Mercy Bruiser Bedlam Bubba Rogers Tom Pritchard Hunter Hearst Helmsley Greg Valentine Scott Norton Psicosis Irwin R Schyster Booker T Rocco Rock Steve Williams Meng Rick Martel Johnny Grunge Masa Chono Brian Knobbs Marcus Bagwell Fatu Ultimo Dragon Brian Lee
101-150
Shark Rey Gonzales Unabomb Jerry Sags Bill Dundee Steve Armstrong Marty Jannetty Johnny Ace Bobby Blaze Man Mountain Rock Diamond Dallas Page Dan Kroffat Jim Duggan Raven El Hijo del Santo Doug Furnas Bunkhouse Buck Doink the Clown Stevie Ray La Parka Ron Simmons Crash the Terminator Kamala Big Titan Aldo Montoya New Jack Negro Casas Genichiro Tenryu Miguel Perez Jr Duke Droese Dick Slater Jim Neidhart Henry Godwinn Shinya Hashimoto Ricky Morton Mustapha Saed Bob Orton Jr Johnny Gunn Pit Bull 2 Brian Armstrong Billy Gunn Pit Bull 1 Jushin Liger Mo Kurasawa Jacob Blu King Kong Bundy Mascara Ano Dos Mil Jimmy Snuka Johnny Smith
151-200
Gorgeous George III Tommy Cairo Akira Taue The Great Sasuke T Rantula Tatsumi Fujinami Ken Shamrock Vic Steamboat Eli Blue Dave Sullivan Tommy Rich Typhoon Stevie Richards Bastin Booger Terry Gordy Axl Rotten Scott Armstrong Jamie Dundee Robert Gibson Kamala II Virgil Mil Mascaras Blue Panther Heavy Metal Wolfie D Mr. Hughes Carlos Colon Steven Dunn Fantasia Ian Rotten La Ley Chris Evans Lizmark Riki Choshu Dick Murdoch El Canek Perro Aguayo Juventud Guerrera Rad Radford Jun Akiyama Pat Tanaka Bobby Fulton Takayuki Iizuka Super Delfin Bart Gunn The Honky Tonk Man Mikey Whipwreck Samu Rob Van Dam The Colorado Kid
201-250
Headbanger Mosh Jimmy Deo Headbanger Thrasher Jim Powers Ace Darling Devon Storm Demolition Ax Fuerza Guerrera Akira Nogami Jose Gonzales Vampire Warrior Koko B Ware Dory Funk Jr Jeff Gaylord Jerry Estrada The Hater Italian Stallion Frank Finnegan The Junk Yard Dog Dutch Mantel Sgt Craig Pittman Paul Roma Killer Kyle Octagon Mike Samples Nikolai Volkoff Timothy Flowers Glen Osbourne Frank Anderson Tony Atlas Firefighter Adrian Eddie Golden The Barbarian Gran Hamada Mantaur Ricky Santana Kevin Sullivan Brad Armstrong Steve Lombardi Tommy Rogers Scott D'Amore Erik Watts El Bronco Jungle Jim McPherson The Renegade Chris Adams Star Ryder Giant Baba Ron Cumberledge 911
251-300
Osamu Nishimura Bushwhacker Butch Kangaroo Denny Kass Vladimir Koloff Vance Nevada Nailz Terry Austin Bushwhacker Luke Ed Atlas The Warlord Jimmy Valiant Iceman Parsons Dusty Wolfe Boo Bradley Austin Steele Scotty McKeever Lord Zoltan Butch Reed Wahoo McDaniel Headhunter A Johnny Graham Bob Armstrong Robbie Royce Stan Lee Sumito Flaming Youth El Mascarado Action Jackson Rock Stevens Headhunter B Joe Salvodi Ray Odyssey Mike Enos Kendo Nagasaki King Kahlua Lou Marconi Tony Roy Barry Horowitz Iron Mike Samson Ryuma Go Marc Ash Bobo Brazil Jr Jesse Barr Vampiro Canadienese Moadib Nikozuna Mike Davis Tiger Mask IV Moondog Spot Tyrone Knox
301-350
Silver King Dream Killer Sgt Slaughter Mohammed Hussein Lawrence Taylor Luna Vachon Charlie Norris Tom Zenk Timothy Well Tony Stetson Tim Horner Ice Man Chaz Taylor Ron Garvin Madd Maxxine George South Wayne Bloom Chuck the Kosher Killer Moondog Spike Cuban Assassin Iron Sheik Michele Starr Killer Brooks Tiger Jeet Singh Demon Hellstorm Rod Price John Hawk Cien Caras Manny Fernandez Mongolian Stomper Mickey Doyle Jimmy Garvin Horace Boulder Rockin Rico Flash Flanagan Frank Blues Hack Myers Jungle Jim Steele Chi Chi Cruz Scotty Summers Keith Hart Rick Conner Phil Belanger Guido Falcone Lone Star Chainz The New One Man Gang Frank Stalletto Ray Roberts Johnny Paradise
351-400
Bo Dacious Masked Maniac Rico Suave Bull Pain Wichita Willie Major DeBeers Russian Assassin 2 Mr Ooh La Laa The Inferno Kid Jerry Grey Chris Carter Brother Midnite Viper Geno Caruso Mental Maniac Al Hardimon Pez Whatley Rick Deezel Kid Collins Bobby Rogers Kevin Quinn Max Thrasher Kodiak Basher Maxx Crimson Jack Hammer Irish Bob Clancy Ken Patera American GI The Nomad Morgus the Maniac Kevin von Erich Jesse Henning Tony Pritchard SD Jones Black Bear Tony Rumble Killer Kanareck Mark Mest Turbo Eric Freedom Stone Cold Kid Gary Royal Jimmy Sharpe Leif Ericson Otis Apollo Brenson Lee Black Night Boris Dragoff Thunder Morgan Bruiser Bennett Vinnie Biondo
401-450
Sheriff Steele Dark Starr Tony Golden Crazy Brooks Bubba Monroe Lightning Rodz Dallas James Rocky Jones Bugsy McGraw Johnnie Walker The Intern Quinn Nash Bobby Blade The General Carolina Dreamer Damien Stone Mike Quackenbush The Gladiator Jimmy Torture JT Lightning Frankie Lee Chance The Ultimate Warrior Billy the Butcher Leatherface Chicken Neck Madd Dog GQ Knight The Crow Liberty Spooky Cool Kid Kleene Alex Wright Baron von Raschke Brian Rollins Black Cat Woody Lee Jimmie Lee Doug Basham Roger Sartain Rick Garren Jason the 13th Bret Michaels David Lynch Johnny B Goode Troy Mest Mike Justice Superkey 1 Bob the Butcher Ricco Rodriguez Tower of Doom
451-500
Kuku the Samoan Superkey 2 The Gargoyles Jammin Jimmy Lamb Deputy Dog Lucifer Kane Iron Fist The Shadow War Dog Cheetah Master Bugsy Slugg Mike Legacy Rob McBride The Knight Rider TJ Powers The Bounty Hunter Lance Diamond Sal Bellamo King Kong Crusty Jimmy Cicero Bart Sawyer Jackie Fulton Bodyguard For Hire Brian Perry Danie Brits Steve Nixon Freight Train Freddy Cat Burglar Chris Stevenson Boogie Woogie Brown Cousin Bubba Ronnie Vegas Sean Casey Adam Flash Death Row #3260 Tommy Cortez Steve Debbes Major Havoc Brian Michaels Jim Pope Tracy Austin Hurricane Lewis Mongolian Mangler Rich Myers Matt Beltser Johnny Lee Robert Roma Sebastian Kane Don E Allen Kevin Kirby
External links and references
Ad blocker interference detected!
Wikia is a free-to-use site that makes money from advertising. We have a modified experience for viewers using ad blockers

Wikia is not accessible if you've made further modifications. Remove the custom ad blocker rule(s) and the page will load as expected.